Take Our Jobs
Posted by Sundari | Wednesday, July 7, 2010 – 9:21 am
There are two issues facing our nation–high unemployment and undocumented people in the workforce–that many Americans believe are related. Missing from the debate on both issues is an honest recognition that the food we all eat – at home, in restaurants and workplace cafeterias (including those in the Capitol) – comes to us from the labor of undocumented farm workers. [link]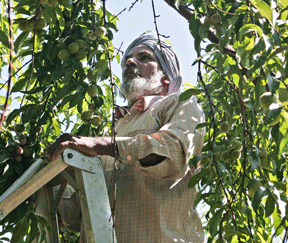 Tired of being blamed for stealing jobs from unemployed Americans, and hoping to spark realistic discussion of immigration reform, United Farm Workers is teaming up with Comedy Central's Stephen Colbert for a cheeky campaign called Take Our Jobs.
The union has created a website where you can sign yourself up for fieldwork. Experienced field hands will train legal residents and hook them up with the many seasonal harvest openings in California, Florida, and elsewhere.
Farm workers are tired of being blamed by politicians and anti-immigrant activists for taking work that should go to Americans and dragging down the economy, said Arturo Rodriguez, the president of the United Farm Workers of America.

So the group is encouraging the unemployed — and any Washington pundits or anti-immigrant activists who want to join them — to apply for the some of thousands of agricultural jobs being posted with state agencies as harvest season begins.

All applicants need to do is fill out an online form under the banner "I want to be a farm worker" at http://www.takeourjobs.org, and experienced field hands will train them and connect them to farms. [link]
Take Our Jobs will be featured on the Colbert Report on July 8.  Many members of the Punjabi Sikh community are farmworkers and some would even be impacted by potential policies surrounding immigration so what are your thoughts on this discussion?