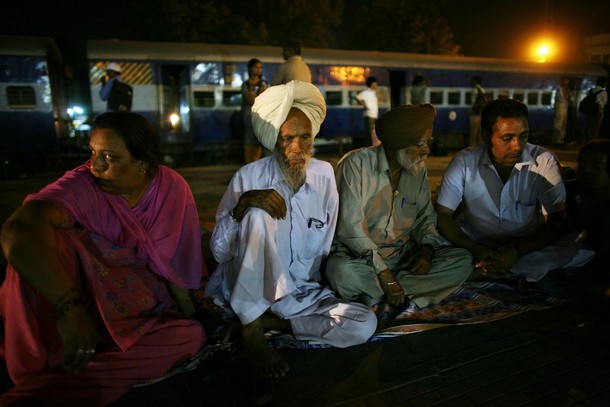 "…the first troubling clues in the late 1980s and early '90s: Peacocks – India's national bird – disappeared from the fields."
A recent story on NPR discussed the "cancer train" in Punjab.  The train is so named as it routinely carries about 60 patients and their families from Bathinda to the town of Bikaner in order to get treatment at the government's regional cancer center.  Studies now suggest that populations with high use of pesticides have an increased risk of cancer.  This seems to be the case in Punjab, where the introduction of the Green Revolution in the 1960s not only led to increased production of agriculture but also adverse health outcomes.  The NPR piece discusses how villages that use pesticides were shown to have higher rates of cancer than villages that did not use pesticides.
On a recent evening, just before the train arrives, waiting passengers wrapped in shawls sit glumly on the bare pavement. Vendors hawk tea and chapattis.  "He has blood cancer," says one man, explaining his upcoming journey by gesturing at his skinny, pale 16-year-old son, Jassa Singh, beside him. Another man points toward his little boy, and says bone cancer has attacked his hip.

A gaunt but dignified-looking man wearing a bright yellow turban says he is going to Bikaner for treatment of cancer in his throat. "It's difficult to talk," he says, pushing a button in a device inserted in his throat that makes his voice sound like a computer synthesizer.
It is important to note, however, that as with many public health studies – an association between pesticide use and cancer does not necessarily suggest a causal link.  Many people are hesitant to blame the Green Revolution and new technologies on the prevalence of cancer in Punjab.  Neverthless, it seems clear that the correlation with the higher rates of cancer can not be understated and suggests that environmental factors could quite possibly be the cause.
Researchers caution that the findings do not prove that pesticides are causing cancer. But they say the passengers crowding the cancer train are part of a medical mystery that could have repercussions around the world: Are the modern farming methods brought by the so-called Green Revolution of the 1960s and '70s making people sick?
A study done by Punjab's School of Public Health titled, Epidemiological Study of High Cancer among Rural Agricultural Community of Punjab in Northern India, found a statistically significant increase in cancer rates in high-pesticide areas.  However, the study also suggested that industrial pollution, tobacco use and other factors could cause the elevated cancer rates in addition to, or instead of, pesticides.  While the root cause may be unclear, it is clear that a number of factors are at play in Punjab – one example being illiteracy.
[Jarnail] Singh says he saw that many fellow farmers were overusing pesticides and not handling the toxic chemicals safely. Many farmers "get totally covered" by pesticides when they spray them – "in their hair, on their body, in their eyes," he says. "And that got me thinking about, why aren't we really looking at that, how that may affect the farmers?"

Critics say government leaders pushed the Green Revolution before they had safeguards in place to protect the population. Although pesticide containers have warning labels, many farmers in countries like India cannot read well. Government agents hold workshops to teach farmers how to use chemicals safely, but those infrequent lessons may not sink in.

Some farmers in the area say they spray their crops a dozen times or more a season, not one or two times as the pesticide labels instruct. And many say they do not bother wearing protective clothing.
Regardless of whether increased pesticide use is the cause of higher rates of cancer in Punjab, it is clear that a public health crisis exists.  Often times the impact of these diseases is seen in subsequent generations.  With the State indebted to new technologies and a lack of awareness among the population with regard to the use of new agricultural interventions, the cancer train will continue to transport patients from Punjab.
—
Also on NPR: India's Farming 'Revolution' Heading For Collapse, 'Green Revolution' Trapping India's Farmers In Debt.