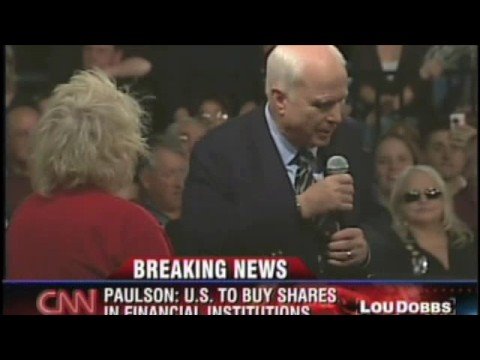 "I don't trust Obama. I have read about him and he's an Arab."
So said a McCain supporter at a recent rally.  To such an ignorant, bigoted, racist comment, McCain could only reply:
"No, ma'am," he said. "He's a decent, family man, a citizen that I just happen to have disagreements with."
McCain did not say that Arabs are decent people, instead we are left to infer that "Arabs" and "decent, family man" are somehow antonyms.  Barack Obama should not be let off the hook either as he is just as complicit.  Earlier when his Democrat primary opponents were trying to smear him, he distanced himself from being Arab and Muslim (which of course he is not!), but did not stop that conversation and say Arabs and Muslims are just as American as anyone else.
James Zogby, the noted pollster, noted the same:
' We are disturbed by the degree to which 'Arab' has become the metaphorical mud to sling against your opponent. This week, for example the Republican Jewish Coalition released a document in which they use the term Pro-Arab as a pejorative accusation. For his part, Rush Limbaugh has joined in by declaring that Obama is in fact an Arab American. Then, on Friday, after a supporter called Senator Barak Obama "an Arab", Senator John McCain came to the defense of of his political opponent by saying, "No, ma'am. He's a decent family man and citizen…" From this we are left to infer that an Arab man is less then a "decent family man."'

"Enough is enough!"[link]
In many ways, it reminds me of the Sikhs' approach post-9/11.  There were many that immediately tried to disassociate themselves from Muslims and screamed, "We are not the enemy."  Of course, implicit in this was the argument that "Muslims are the enemy."  Then later as cooler minds prevailed, in an amazing moment which I still take great pride, Sikhs left behind such divisive discourse and changed their call to "We are all Americans."
As the political discourse in this country continues its downward freefall, this comment by the McCain supporter made me recall a past experience that I had.
I am a proud Sikh.  And if someone asks me about my religion, culture, ethnicity, etc., I have no problem to take the time to explain something about our Sikh qaum.  However, I remember I was at a bus station, when a man came up to me and said, "Are you a f—ing dirty Ay-rab?"  I said, "Yes I am, what the f— are you going to do?"  Although I probably didn't handle the situation in the best manner (and I hope I've grown up since then, but am never really sure), still even today I would make the same statement (although hopefully in a better manner).
So today, as I see the political discourse allowing for sinister Arabophobia and Muslimophobia, I stand in solidarity and say "Yes I am Arab….even though I am a Sikh."