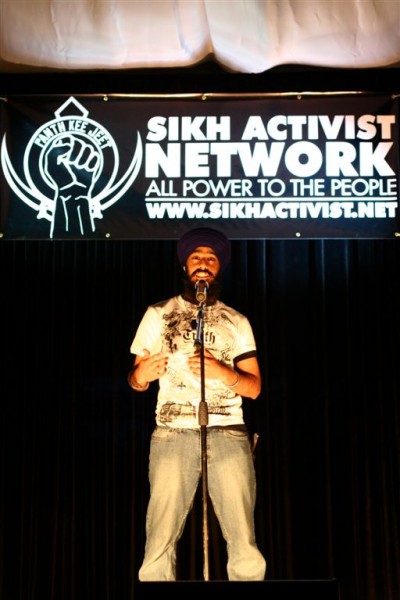 It is often said that a revolution begins not with the sword but with the pen. However, last Friday night in a packed banquet hall in the Toronto suburb of Malton, I witnessed a revolution begin with the microphone.
At an event entitled "When Lions Roar", fantastically organized by the Sikh Activist Network, one young artist after another got on to the mike and paid homage to the lives destroyed in 1984. I was blown away by the talent and passion displayed by the performers. Through the art of spoken word, music, and action, each of the 26 acts put a different face on the impact of June 1984. They were all unique in their perspective, but all shared one common thread: 1984 is just too important to forget.
Over 1000 people gathered to attend the 4+ hour event. They covered the entire spectrum of Sikh life. This was not your typical retreat and kirtan crowd. In fact, the diversity of performers and audience has challenged me to rethink my stereotypes about who cares about 1984 and the future of the Sikh panth. Individuals that I would have never suspected of having even a passing interest in Sikhi or the Sikh community, would come up to the mike and speak with such energy, insight and emotion. They often reduced me to tears. And most amazing was the fact that almost all of them weren't even alive in June 1984.
For a thirty-something guy like me who has always considered myself part of the "youth", it was indeed a little bit humbling to realize that, while I'd probably still be the youngest guy at a Youth Akali Dal meeting, I'm now probably a generation or two above the youngest Sikh leaders. Which means me and my fellow Generation X-ers need to spend less time trying to do it all ourselves, and more time using our resources to enable the next wave of younger Sikhs to establish their own voice and institutions. We were the first generation coming through the diaspora, with little support from our elders. However, we can make it easier on our younger brothers and sisters. We can provide them seed funding to start their dreams, connect them those that can help them along the path, and help coach them through their challenges.
As you'll see from the videos and photos, the next generation has indeed stepped up, their language of change is hip-hop and I think they're gonna be alright.
Click through for videos and pictures.
View more event pictures on the SAN Facebook page.
Click here and here to view more videos.