The last time I was in Punjab, I visited a gurdwara with a cousin of mine who was a one-time employee of the SGPC.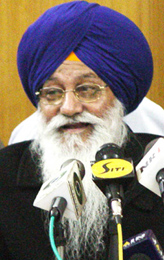 Upon receiving and tasting the karah parshad, I asked him why it was so coarse and dry compared what I was used to. He responded that it was now common practice for SGPC-controlled gurdwaras to use a lower quality, more unrefined type of flour, as this required less butter. But why would the gurdwara staff want to use less butter? To pocket the savings in the butter budget, of course.
Sadly, not much surprises me about the SGPC anymore. A story out of the Tribune India this weekend reported the following account of 15 SGPC employees being fired.
The Shiromani Gurdwara Prabandhak Committee dismissed as many as 15 employees on the recommendation of the fact-finding committee, headed by general secretary Sukhdev Singh Bhaur.

Earlier, they were indicted for indulging in serious cases including corruption, addiction and moral turpitude. However, the SGPC has decided to review the cases of those who were found guilty of pilferage of ration from the Guru Ram Dass Langar and iron rods from store of Gurdwara Sultanpur Lodhi (Kapurthalla).

Among those who have been dismissed include Sukhvir Singh, a gurdwara inspector, SGPC, Sawinder Singh, posted at Gurdwara Jind, Ajit Singh (Gurdwara Bir Sahib), Devinder Singh (Darbar Sahib, Amritsar), Lakhwant Singh, Satnam Singh (Gurdwara Sukhchaina Sahib, Phagwara), Pargat Singh and Baldev Singh (Darbar Sahib), Balkar Singh (Gurdwara Tahliana, Raikot), Harjit Singh, Natha Singh and Dalbag Singh (Takht Kesgarh Sahib), Rachhpal Singh (Darbar Singh) and Tarsem Singh (Gurdwara Amb Sahib).

Talking to The Tribune, SGPC president Avtar Singh said the employees who were sacked were allegedly involved in theft/pilferage of ration, drug addiction and moral turpitude.

He said the SGPC was determined to weed out corruption and all sorts of evils from the committee.

The sub-committee, which recommended immediate dismissal of the employees, comprised Sukhdev Singh Bhaur, Gurbachan Singh Karmuwala, Bibi Bhajan Kaur Dograwala, both executive members, Baba Tek Singh, Makhan Singh Nangli, Kulowant Singh Mannan and Harbans Singh Kandhola. Earlier, the accused employees were placed under suspension, but they had applied for mercy appeal.

However, after scrutiny of the record, 22 employees were found to be guilty of various charges, while certain officials were let off for want of proof. It may be recalled that the SGPC had dismissed its two employees while two officials were suspended for bogus purchase of more than 10,000 cement bags by the SGPC by tampering with records.
First of all, what the heck is moral turpitude? On Answers.com, moral turpitude is defined as:
A phrase used in criminal law to describe conduct that is considered contrary to community standards of justice, honesty, or good morals. Crimes involving moral turpitude have an inherent quality of baseness, vileness, or depravity with respect to a person's duty to another or to society in general. Examples include rape, forgery, robbery, and solicitation by prostitutes.
Ouch. Given previous reports that I've read about SGPC employees (here and here), I doubt it this case of moral turpitude was something as petty as dipping into the golak.
Secondly, I love Avtar Singh's ironic determination "to weed out corruption and all sorts of evils from the committee". I know its just wishful thinking, but if he really wanted to clean things up, he'd go after the guys at the top of the SGPC that set the tone and direction of the institution, not just those at the bottom of the food chain. But of course that would fall under the category of "biting the hand that feeds me".