Save The Gurdwara
Posted by RP Singh | Monday, July 26, 2010 – 2:00 am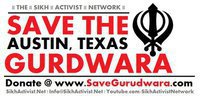 I'll admit…when I first saw emails and facebook posts titled "Save The Gurdwara", I immediately dismissed it, thinking it was yet another mismanaged Gurdwara falling in to bankruptcy or one group trying to overthrow another.  But after I read the website and confirmed some of the details with contacts in Austin, I was shocked by what had occurred.
By now most of you know that in 2007, the city of Austin, Texas approved the building of a permanent Gurdwara on land the Sikh community had purchased back in 2003 and where they've since been having regular weekly services in a makeshift home.  Shortly after construction began, a couple who recently moved nearby the Gurdwara (the Bollier's), filed an injunction to block construction on the grounds that it would be an eye-sore, increase traffic, and lower property value.  In March 2009, a district court denied the couple's injunction in favor of the Austin Sikh community and construction of the Gurdwara was allowed to proceed.  Unfortunately, this victory would be short-lived.  Sixteen months after the original victory and construction now complete, an appeals court has overturned the lower court's ruling and has ordered the entire structure to be torn down – needless to say, the Austin Sikh community is devastated!
As many of us would, I immediately thought this was a blatant act of racism, but as I read the website several times, I noticed there is no accusation of this being racially-motivated.  I applaud the Austin sangat for taking the "high road" and not pulling the race card until there is clear evidence of racism or bigotry, but I must say…it sure does smell like it!  I mean, "Lower their property's value?"…really?
Somewhere in all the disappointment and frustration of this situation, I am still impressed with how Sikhs manage to come together in a time of need.  Emails are circulating through all the networks, people are dedicating their facebook pictures and statuses to the "Save the Gurdwara" movement, and some of our talented MC's have written songs to help rally and inspire the community.