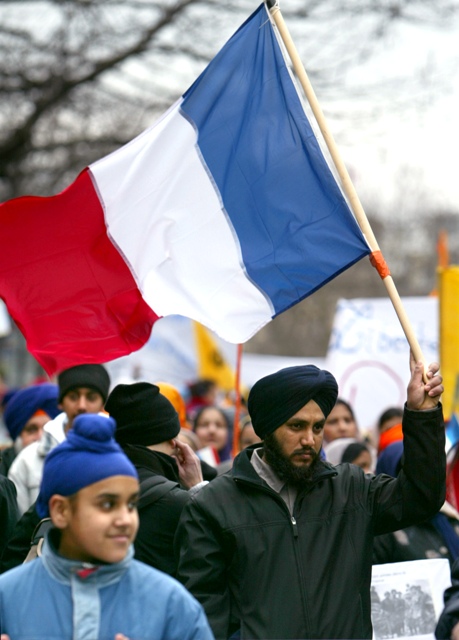 French legislators are currently considering a ban that would prevent Muslim women the right to wear full-body veils in public areas such as buses, trains, hospitals, restaurants, schools and other public places.  Since 2004, head scarves and other signs of religious affiliation have been banned from public schools by a government determined to enforce France's tradition of strict secularism amid fears of growing fundamentalism.  Although Sikhs have also been fighting for their right to wear turbans in France – what will an overt ban, which sends a clear statement to its citizens about religious tolerance, mean to other minority groups in the country?
Identifying the burqa as alien to French culture, say the ban's critics, also fans xenophobic sentiment. What will be declared un-French next? The sari? The Sikh turban? Day-Glo bicycle shorts? [link]
Interestingly – there are only about 2,000 Muslim women in France who wear these veils.  Many say that France, a country that prides itself on liberal democracy, is simply taking away the individual freedom to make a choice.  As an Op-Ed piece in the NYT asks, "Why the French obsession with the burqa? After all, as the French government itself has conceded, only about 1,900 women wear the full-body covering. So why are over half of the respondents in recent public opinion polls in favor of a ban on it?"
The answer is simple. This is not about a fashion faux pas or women's rights, but about sending a message… The irony of fighting repression with a ban seems to have escaped notice… Religious preferences must yield when there is a compelling government interest and where accommodation is not reasonably possible. The proposed French restrictions on the burqa do not satisfy either of these requirements. What compelling interest does the government have in banning burqas in hospitals or government offices? Or on buses and trains? [link]
The Sikh community should take an interest in the direction this debate and the potential ban is headed.  Sikhs in France have already had their right to religious freedom compromised.  Is there more to be compromised?  Where will France draw the line, if at all?  Many people equate the burqa with turbans, yarmulkes, crucifixes and other religious symbols.  I don't believe that religious symbols are a challenge to the French Republic. If anything, a ban would further alienate and stigmatize Muslims and other religious groups, not enfold them in French society.
If we support a burqa ban on the basis that we dislike the clothing, or that it offends our notion of freedom, or that it makes us uncomfortable, we would then be opening ourselves to all manner of compromises on the many unpopular personal choices that we make in daily life. [link]
It goes without saying that in almost every single article I read about this issue, one question was continuously asked.  Will Sikh turbans be next?