WARNING: This is MY opinion and DOES NOT not represent anyone else on The Langar Hall. Hopefully, unlike Ennis, I won't have to take this one down.
I am sure I am going to be labeled as a hater. I don't care it must be said.
Scouring the news I came across a recent press release by the Sikh Council on Religion and Education. I almost feel even more embarrassed by highlighting it. SCORE, for the uninitiated, is a Sikh organization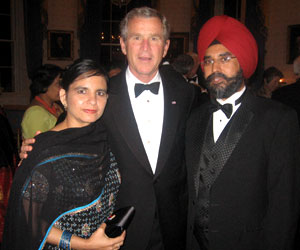 based out of Washington DC. It is the child of Dr. Rajwant Singh, a Maryland-based dentist. He is definitely one of those guys that likes to 'speak for Sikhs.'
Like many Sikh organizations, SCORE is a one-man show. Don't believe me, check out the pictures on the website, you'll find few without Dr. Rajwant Singh. He may be the most pictured Sikh-American. (Look to the right, I just added one more!)
Now I really don't know what SCORE does, other than look for photo opportunities, but to Dr. Rajwant Singh's credit, he has established relationships with many political figures in Washington DC and has ingratiated himself as the 'Sikh' representative in many interfaith functions and communities in DC. DC loves interfaith functions! That is a good thing. Sikhs should have a representative and in the meantime we have Dr. Rajwant Singh.
Ok, so the point of this post was the press release "Sikh Kenneth Cole Model with Turban and Beard To Be Honored at the Fifth Annual SCORE Capitol Hill Dinner." To my knowledge, we were the first internet source to blog about Sandeep Singh Caberwal's modeling of Kenneth Cole merchandise. So let me first state, " Shabash Sandeep!"
Ok now that that is done, can I ask a question? What exactly is being honored? Was there something path-breaking? Inspiring? A real service to the community? Did he build a hospital in Punjab? How about start an after school program? Or is this award like those that get saropas for no particular reason?
Now I am not saying that all their awards are trivial. They are honoring Congressman John Lewis and I am a fan. I think it is really Sunny Caberwal's award that just seems so trivial to me. And I am not blaming Sandeep for taking the award, I am just questioning the sponsor's reason for its creation.
So what are your thoughts? Agree/disagree? Am I crazy for thinking this?
PS: I am not particularly anti-Dr. Rajwant Singh as I really don't know him. These have just been my observations. Feel free to tell me all of his accomplishments and why he is a great Sikh leader. Ok back to your regularly scheduled website.