Missing Punjabi Sikh Girl In Reno, Nevada
Posted by Phulkari | Saturday, October 3, 2009 – 3:20 pm
All help is needed to locate Karamjit Kaur,16, a Punjabi Sikh teenage girl from Reno, Nevada who went missing on Wednesday evening while r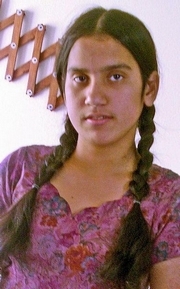 iding her bike. She had arrived from India eight-months ago and recently started learning how to ride her bike.  On a hot Wednesday evening around 6:30pm Karamjit went outside in her black top and blue cotton pajamas to ride her bike and never came back home.  The Reno police suspect foul play.  Karamjit's bike was found a quarter of mile away from her house by a skateboarding park.
Karamjit is approximately 5'7" tall, 140 pounds, with long black hair and brown eyes. She has a scar on her forehead, and her left canine tooth is longer. She was last seen wearing a black v-neck short-sleeve t-shirt, bright blue cotton pajama bottoms and black flip-flops.  Her family is devastated and praying that she returns home soon.
The Reno Police Department is asking for the public's assistance in locating her. Anyone with information relating to this incident should contact the Reno Police Department at 775-334-2115, Secret Witness at 775-322-4900, or www.secretwitness.com. All calls to Secret Witness remain anonymous, and Secret Witness pays rewards for information on all crimes.