Last weekend I attended the Sikh Lens Sikh Art and Film Festival in Hollywood. I have attended film festivals all over North America and strongly believe in their need and presence in our community. Many times, however, the events get overshadowed by the glitz and glamour – the red carpet, the photographers, the eccentric outfits… I was therefore grateful that my experience at the Sikh Arts and Film Festival was a fulfilling one – I left knowing that Sikh Arts and Films bring value to our community and need to be supported. In addition, I felt the organizers made a special effort to keep the event focused on the directors, artists, musicians, actors, authors and organizations who were present. They recognized the fact that we are all in this together. Sikh Arts and Films are only beginning to be acknowledged, there is so much potential and growth that will still occur. However, this isn't going to magically happen overnight, and it most definitely won't happen without the community's support.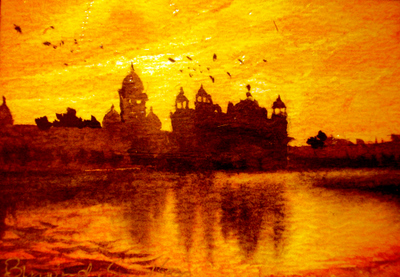 I was recently told that Sikhs in the UK spend 7 times more on license plates than they do on books (yes, 7 times!). While I'm not sure of the statistic in the US, the point is clear – perhaps we're not investing in the right places? I think as a community we have begun to establish the need to support non-profit organizations that are working to address human rights, legal, education and activism issues (although we still have a long way to go to enhance our support). However, what goes hand in hand with this is the support and advancement of Sikh Art and Media. Without a doubt, events such as Sikh Lens are helping to pave the path – however, we as a community need to ask ourselves why we are so hesitant to spend money on independent films, children's books, on historical references and on paintings. When I think about other immigrant communities, I notice that their advancement as a community comes from their support of one another. Whether we like to admit it or not, our community is extremely frugal and competitive with each other, and unless we start to move away from those stereotypes – we will not be creating a better world for our children.
We may not be able to attend every event or donate to every organization or buy every CD, film or book – however, we can make the effort to enhance our current participation. In addition, we all need to work together more. Non-profit organizations should help raise awareness about books and films. Books and films should make an effort to support non-profit organizations with their proceeds. At the end of the day, our community as a whole benefits from this – it raises awareness about issues affecting Sikhs and teaches our children about the principles so integral to Sikhi.
The Sikh Art and Film Festival in Hollywood showcased about 22 films, 5 books and invited a panel of "Creative Sikhs" which included Shamsher Singh, Gurumustuk Singh, Tamnit Singh, Jagmeet Hoodini Singh, Navjot Kaur, Puneet Sira and Harvin Sethi among others.
The weekend started with a "Maharaja and Maharani" gala which opened the event. I made my way through the entrance (avoiding the awkward red carpet and pictures) to the auditorium where the awards would be given and films shown. A notable film of the night was Location/Situatedness Through Memory by Kamalpreet Kaur. While it was probably too abstract for many in the audience, I absolutely loved the cinematography and recognized that this type of creativity is completely underrated! The one thing I will say is that while many more people would have liked to attend this evening, the ticket prices for the gala were definitely out of reach for many students and young professionals who would benefit from this networking but weren't able to afford it (ticket prices for the remaining weekend were affordable and some would argue that those clusters were more beneficial to attend).
Other films of the weekend were Nineteen Eighty-Four and the Via Dolorosa Project, Maharaja, The Holy Duels of Holla Mohalla, Virtues Misinterpreted, Turbanology, Kisaan, The Rebel Queen, Jaswant Singh Khalra: A Matryr of Human Rights, and Storming the Temple. In addition, an entire cluster was dedicated to films addressing the events of 1984. This cluster, which was co-hosted by Jakara's Visions of Truth, was particularly relevant as we commemorate the 25th anniversary of the events. Many in the audience had never seen any of the films and others had not even known the extent of the events.
One of the things that made this event particularly unique was the incorporation of books into the line-up, particularly children's books. A friend recently said to me that our parents and their generation perhaps don't realize the significance of children's books, particularly books where the main character is a Sikh child.  Two authors gave live readings.  Navjot Kaur, author of A Lion's Mane invited children onto the stage with her for the book reading.  With a backdrop of images from the book, the entire audience was enthralled!
Another great element of the event were two panels dedicated to Creative Sikhs and 1984, respectively.  The first panel brought together Sikhs whose innovation and talent has led them to make pathways in our community.  Listening to how their quest formulated was incredibly inspiring for everyone in the audience.  The second panel was dedicated to a dialogue about 1984 to discuss many of the issues which were raised in the preceding films and additional questions from the audience.
The event closed with a Mela which brought together vendors who sold items from t-shirts, to books to jewelry and organizations such as SALDEF, Sikh Coalition and Jakara Movement with a background of performances from Tanmit Singh (G.N.E.) and Hoodini Singh. It was an excellent opportunity to showcase the various elements of our community. While the attendance at the event was lower than the rest of the weekend (it was Sunday evening and many attendees were getting ready to drive or fly home) I do believe that this type of event has much potential and can be enhanced in the coming years.  We can just imagine a venue that brings together the interstices of Sikh life today in the diaspora!
On a final note, i think it is essential to mention that while the event last weekend was packed with Arts and Media – it seems that the "film festival" is perhaps moving away from a focus on films.  The films were good, they were entertaining and some even thought provoking.  However, in general, it was mentioned that we should challenge our inspiring film makers to raise the bar and make quality films that an audience can critically assess.  We are often remaking the same types of films while the audience is becoming more sophisticated and expectations have increased.  Where are the films about controversial issues affecting our community?  We have to not only challenge each other to be supportive of these projects, but we also have to challenge one another to make quality films, books, music and paintings.
The actions we take now will set an example for the next generations.