Can You Hear the Nightbird Call?
Posted by Sundari | Tuesday, January 29, 2008 – 12:33 pm
Dedicated to "The man on the bridge in Modinagar and the victims of Air India Flight 182," Can You Hear the Nightbird Call?, is said to be one of the recommended reads for Sikhs everywhere. While there are numerous historical accounts of the Partition, Operation Bluestar, and the Delhi riots – this is one of the few fictional accounts I have come across where the same feeling and emotions rise to the surface as they do when we think back to those events.
The author, Anita Rau Badami recalls,
[It was] just after Indira Gandhi was assassinated by two of her Sikh bodyguards. I'd been married two weeks. My husband and I were traveling back to Delhi after our honeymoon. In Modingar, a town close to Delhi, we saw a Sikh man standing on a bridge… his turban removed, his long hair unbound, his arms pinned to his sides by a car tire, surrounded by a group of hoodlums. Somebody tossed something at him and the next moment the man was on fire. [Link]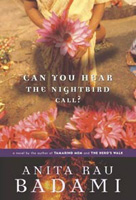 This event is the seed for the novel. The story spans over half a century, from the Partition in 1947 to the Delhi riots following the events of 1984 and finally to the explosion of the Air India flight in 1985. It's the story of the intersection between personal concerns and larger ethical and political ones. Bibiji, Nimmo, and Leela are the three main characters of the novel – three women whose lives merge and diverge by chance yet are linked through the political turmoil and destruction in Panjab, first during the 1947 partition and then again during the events of 1984. Bibiji grows up in Panjab and as a teenager manages to steal her sister's husband-to-be and moves with him to Vancouver. Leela, a half-German woman from Banglore, also follows her husband to Vancouver and befriends Bibiji. Nimmo, my favorite character, remains in Delhi and is a direct witness to the partition. She is also Bibiji's niece and in a twist of fate, she reluctantly agrees to send her oldest son, Jasbeer, to live with Bibiji in Canada. It's a heartbreaking decision that Nimmo will come to regret. Interestingly, Badami's three heroines were partly inspired by a collection of survivors' testimonies published by People's Union for Democratic Rights in 1984 about the impact of the Delhi riots.