Gone are the days of great public intellectuals in the Punjabi tradition.  Whither is our Sirdar Kapur Singh to give intellectual insights, analysis, and voice to the problems of Punjab?
In contemporary Punjab, when crooks rule the halls of power in Chandigarh or even the SGPC offices in Amritsar have become the dens of thieves, we turn to another.  For many in Punjab, that has become Babbu Mann.
It was Babbu Mann that caused a storm by telling the truth by merely stating that –  while there was one Baba Nanak that on foot became the talk of the world, today's so-called Babay drive around in fancy cars with red lights attached to the top (as VIPs).
Here at a recent concert at Wembley Stadium, Professor Babbu Mann corrects one of the Indian nationalists' lies – that of Lala Lajpat Rai.
Lala Lajpat Rai is usually remembered as a 'freedom fighter' during struggle against British colonialism.  Websites usually laud him in the following way:
In 1928, British Government decided to send Simon Commission to India to discuss constitutional reforms. The Commission had no Indian member. This greatly angered Indians. In 1929, when the Commisssion came to India there were protests all over India. Lala Lajpat Rai himself led one such procession against Simon Commission. While the procession was peaceful, British Government brutally lathicharged the procession. Lala Lajpat Rai received severe head injuries and died on November17, 1928 [link]
As Professor Mann suggests, read your history and learn how this so-called great "hero" died of a heart attack later and was hardly the martyr of Indian legend.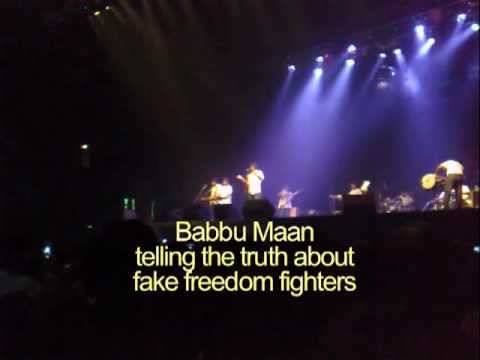 For the video of 'Ik Baba Nanak Si' mentioned earlier in the article, click fold and watch below.
The truth-teller, despite whatever his own short-comings, gained the praise of the people of Punjab and the disdain of a number of hypocrites.