Gurmat Sangeet: The revival of traditional Sikh music
Posted by Sundari in
Music
,
Sikhi
on 08 26th, 2008 |
16 Comments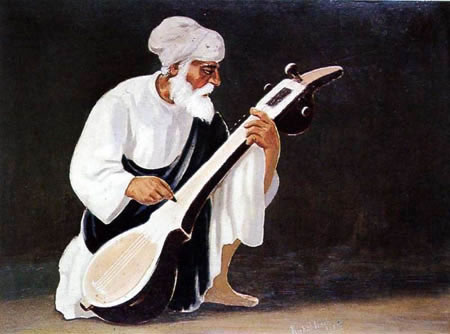 Unfortunately, and perhaps only for myself, I don't remember the last time I visited one of my local gurdwaras and can say I was moved by the kirtan.  Perhaps I feel that most (though not all) kirtan has become modernized to such an extent that it doesn't really encompass the spiritual enlightenment that shabads were intended to.  Actually, it was only after a recent visit to a Namdhari gurdwara that I truly felt that I had heard kirtan in its true element.  For those of you who, like myself were unaware, Namdhari Sikhs believe that the only way to reach God is to sing in Raag, the mode of classical Indian music.  For Namdhari Sikhs, the instruments they play and the style they sing in is very particular.  They place a firm emphasis on rare instruments dating back to the 16th century, the time of Guru Nanak who continued the Vedic tradition of writing the holy scriptures in Raag.
Gurmat Sangeet has always played a significant role in Sikh history and began in the 16th century as the musical expression of divine poetry and yet many of us have never been exposed to this form of kirtan.  During our Gurus' time, Gurmat Sangeet was devotional meditation and music and instruments were used as an accompianment.
Sikh music in the 16th and 17th centuries was comprised of the then-prevalent classical and folk music styles, accompanied by stringed and percussion instruments. The classical style was the devotional dhrupad style, a somber, deeply meditational style in which the text was of prime significance and the music played a supporting, albeit important role in the quest for Divine Essence. Folk music encompassed songs that marked various aspects of life – ghoriaan were sung at marriage, alaahniaan at death, and vaars to glorify brave warriors. [link]
It is said that Raags have a direct relationship to human moods; Soohi representing joy and seperation, Basant representing happiness, and Sarang, sadness.  Information from the Sikh Music Heritage Institute states that Guru Nanak began Sikh music with the accompaniment of the rabab, a stringed melodic instrument; Guru Amar Das introduced the stringed instrument, saranda; and Guru Arjan Dev, developed the jori, a two-headed drum.  During the 1920s a sharp decline in their use made them almost extinct.  The harmonium took the place of stringed instruments and the tabla replaced the pakhaavaj and jori.  There are various global efforts taking form to revive classical Sikh music.  The Gurmat Sangeet department at Punjabi University, Patiala, the Raj Academy in the UK, and the Sikh Music Heritage Institute in California have dedicated resources to educating and training individuals to play traditional Sikh instruments with the hope that Gurmat Sangeet will be revived.