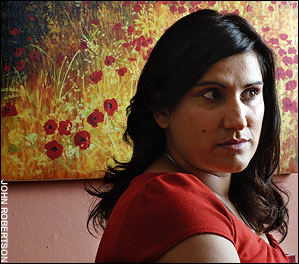 Although I can think of one commenter that may be angered, but Jasvinder Sanghera has just honored with the "Pride of Britain" award for her pioneering work.
44-year-old Sanghera was instrumental in forcing the British government to take effective steps against forced marriages. The Foreign and Commonwealth Office now has a Forced Marriage Unit (FMU) which receives about 5,000 calls a year from victims. About 65 per cent of the cases the Unit deals with are Pakistani Muslims, 30 per cent are minors and 15 per cent are boys or men. Every year, the Unit helps bring back to Britain about 400 people trapped in forced marriages overseas.[link]
The group is continuing with its pioneering initiatives:
The charity is in the process of setting up its first South Asian male refuge for victims of forced marriage and honour-based violence.

Force marriages are not only a violation of human rights, but are also linked closely to rape, imprisonment and honour-based or 'Izzat' violence, including killings.

Although Pakistanis constitute the majority of forced marriage cases, British police have also dealt with cases from Turkish, Iranian, Romany, Bosnian, Kosovan and west African communities.

The opposition Conservative Party has pledged to ban forced marriages if elected to power at the next general elections due by June 3, 2010.[link]
Anytime I have written about Sanghera, I have stirred the anger of some of my brethren (and sistren?), but mostly brethren.  So here we go again.