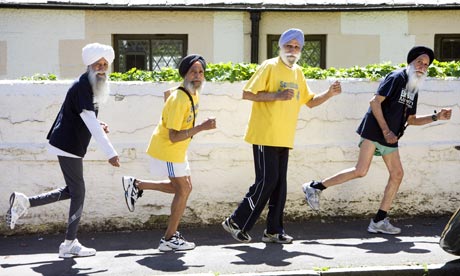 I am inspired.  With the growing prevalence of cardiovascular disease, obesity and diabetes in our community – it is important to be inspired.  Fauja Singh, Amrik Singh, Ajit Singh and Karnail Singh (with a combined age of 336) recently took part in the Edinburgh Marathon as part of the relay Sikhs in the City team.  How have they stayed so healthy?  The quartet agrees that a combination of a positive frame of mind, keeping the company of people who are forward looking, not indulging in any excesses, appreciating what God has provided them with and keeping active is the key to being healthy.
All four members of Sikhs in the City share an infectiously positive outlook and lust for life that is key to their ongoing success. Ajit Singh, 79, for instance, has just learned to ride a bicycle, so one of his goals now is to complete a triathlon. He and his lifelong friend Amrik Singh, also 79, have completed more than 1,000 races between them and acted as mentors to Fauja. Karnail Singh, 80, is the newest member of the team and the least experienced runner. His "experimentation" with course routes means that his teammates have to keep an eye on him, but what he lacks in kilometres he more than makes up for in providing the focus for a little gentle mickey-taking. [link]
If that wasn't enough, the four will be taking part in a relay marathon in London, a relay from Birmingham to London, the Norway KnarvikMila where times are age-weighted, and they are joining the Toronto Waterfront marathon to challenge a team of Canadian elders over a 5km course.
And as an example of the positive outlook, Fauja Singh comments on his life in England.
Before leaving I ask Fauja what changes he has seen in Britain in the 15 years he's been here and he replies in his typically charming, upbeat way. "Maybe it's because I'm getting on a bit and so I'm grateful for everything, but despite what other people might say, I only see improvement. The respect and acknowledgement I get here is just wonderful." And with that trademark twinkly smile he adds: "I am very grateful for the opportunities I have been given. If I didn't do any of this why would a man like me, of my age, have the opportunity to wander the streets of the world?" [link]
We can learn so much from them.  Are you an active and positive-minded Sikh?  I know I have much to improve but hopefully by the time you read this, I'll be at Yoga class!