For the uninitiated Panthic Weekly is a Sikh portal that provides news and media on various issues that affect the Sikh community.  As part of the Panthic Network, my first memories of the team are related to the long-standing Fort Panth Khalsa that especially became popular during the debates centered around the then-Jathedar Ranjit Singh.
The website over the years has developed a formidable presence on the website and is a celebrated by that section of our community that have a leaning towards the strong opinionated slant it represents, especially towards a specific Jathabandi.
For the most part, I applaud Panthic Weekly's efforts and their abilities to engage with youth audiences with a variety of media.  Their Khalsa.tv, Panthic.fm, Kathaa.net and Keertan.net are all efforts that deserve praise.
However, my problem with the network is their derogatory language and uncivil discussions that are promoted, often bordering on bullyism.  Whenever, the editors of Panthic Weekly do not like a person, they change their name from 'Singh' to 'Sinh'.  Parkash Singh Badal becomes Parkash Sinh Badal; Former Jathedar Darshan Singh Ragi becomes Darshan Sinh Ragi; Prime Minister Manmohan Singh becomes Manmohan Sinh.  Allegations of RAW agent, RSS-stooge, "traitor", etc. and the worst parts of our post-1984 history are relived where Sikhs spew vitriole on other Sikhs.
Another issue is it has often become a haven for violent retribution.  While the website can in no way be held responsible for its commenters, still I no first-hand that they do censor comments, too many inflammatory comments that harm the discourse amongst Sikhs are allowed to pass.
When reporting the death of a controversial Sikh scholar, the news did not lament his death, only discussed his heresy (such a tactic seems remnant of a Sarah Palin rally).  No remorse was shown over his killing.  One commenter even wrote
"Chakdo Singho! Few more to go, Lets GOO…"[link]
Even the reporting often leaves much to be desired.  The original report on the controversial scholar stated that "the Sikh Sangat" [not members of the Sikh Sangat mind you, but they are presented as if they speak for the entire Sikh Sangat, which of course they do not] was "irritated" by some responses the murdered scholar gave.  However, the reporter follows:
local Sikh activists lashed out at the controversial reporter and injured him. But he was released soon after his wife and two daughters intervened.[link]
The bias of this news reported soon becomes apparent. The Tribuneindia published a photo of the 'released' Seona and his two daughters.  One can see that this gang thrashed an old man and may have even attacked his daughters (the article is unambiguous).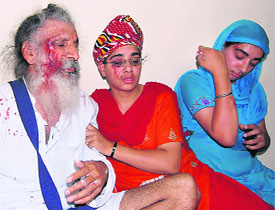 I used this example not to defend Seona, nor do I have any link with Darshan Singh, Manmohan Singh, or even Parkash Singh Badal (in fact, I have been critical of all).  Again, while I respect much of the Panthic Weekly's tireless seva, I do believe promoting hooliganism, interjecting violence instead of discourse, and self-appropriating the ability to label or de-label members Singh and Sinhs does not help the long-term fortune of our Qaum, something that I hope all of us are working towards.  All Sikh organizations and forums (including this one!) should work hard to raise the standard of discussion and conversation within our community.
Somewhat related: BKI as Boogeyman
UPDATE:
I should have done some more research before the original post.  As usual, Shinda Singh (pagh salute!) was ahead of the curve.  For another thoughtful critique and analysis of Panthic Weekly, see his post.