So today will mark the opening of the Olympic Games. Some will cheer for their states; some will cheer for their heroes; some won't care.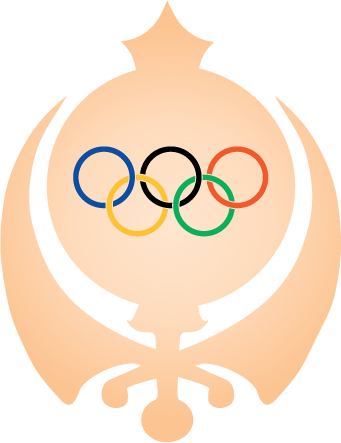 Well, here are FOURTEEN reasons to care: reasons that transcends national barriers and in many ways is more reflective of our Sikh-centered, globalized outlook. It is related to the fact that Sikhs from throughout the world congregate here at The Langar Hall and that issues ranging from Kenya, New Zealand, Canada, Panjab, England etc. all interest us
So in this spirit of continuing to foster a globalized Sikh diasporic community, I present to you the untold story of Punjabi Sikhs in the Olympics. The reason I am using the term 'Punjabi Sikh' is because I don't really know how they identify themselves, but their names indicate that they come from a common ethnic stock – a Punjabi Sikh background.
I am trying to make this list comprehensive, so if I left anyone out, please feel free to post a comment and I will go back to add them. Let's make this a project we do together, by posting their finishings and results. [also thank you to Mandeep Singh for correcting some of my mistakes]
Sikhs in the Olympics:
Sikhs are one of those great unknown Olympic stories. It is a diasporic story where Sikhs have representeed many countries and many continents. In the Beijing Olympics, there will be Sikhs (on as far as I could figure out using the wikipedia lists) coming from India and Canada. In years past, Sikhs have been included on teams from Kenya, Great Britain, and even Malaysia. From the regions of the five Olympic Rings (Blue – Europe, Yellow – Asia, Black – Africa, Green – Oceania, Red – Americas), Sikhs, including those in the diaspora have been at the center of many Gold medal winning teams – especially in field hockey. As far as individual glory, Milkha Singh "the Flying Sikh" disappointing fourth place finish in the Men's 400M in the 1960 Rome Olympics.
CANADA:
Field Hockey
This year many Sikhs members of our Qaum will be playing behind the Canadian flag. Four Punjabi Sikh field hockey members will be playing for Team Canada. They are Ranjeev Deol, Ravi Kahlon, Bindi Kullar, and Sukhwinder "Gabbar" Singh. (If you know them and can share personal anecdotes that would be wonderful!)
The four field hockey athletes have made Canadian headlines with their decision to wear pagris (turbans) during today's Opening Ceremonies.
Ravi Kahlon from Victoria came up with the idea, stating:
"I want to challenge the identity issue," said Kahlon, who admitted the other three players, and assistant coach and former Canadian Olympian Nicki Sandhu, were reluctant when he first broached the idea with them.

"I want to show that you can wear a turban and still be Canadian," he added.

"When some of them first heard about this, a few said 'This is the Canadian team, not the Indian team,' " said Kahlon.

Exactly, noted Kahlon. That is precisely the point he wants to make. A turban is a Sikh religious symbol and in no way an Indian national symbol. Kahlon said as a Canadian he would never wear any symbol of Indian nationhood during the Olympics or at any international competition.

"This is no different than wearing a cross on your chest or a Jewish yarmulke during the opening ceremonies, which nobody would have any problem with," said Kahlon, an RBC mortgage specialist, and outstanding forward appearing in his second Olympic Games.

"We're a country of immigrants and this is a celebration of Canada and the fact that in our country, you can be anything you want to be. I think it's great that Italian-Canadians gather at shops along Commercial Drive (in Vancouver) and in Toronto to cheer on the Italian national soccer team. Nobody bats an eye about that. Nobody. They mean no offence. And we also mean no offence."

Kahlon was born and raised in Victoria but said he is cognizant of the immigrant experience and it's that part of Canada he has chosen to celebrate when marching into the massive 91,000-seat Bird's Nest Stadium Friday behind Canadian flag bearer and kayaker Adam van Koeverden, of Oakville, Ont.

"My dad had to cut his beard and lose his turban to get a job when he came to Canada (in 1970)," said Kahlon. "Now we can choose to wear a turban or not and it doesn't affect anybody making a living. Now we can celebrate that evolution of our country. During the opening ceremonies, I want people to think about Canadians coming in all kinds of packages, and yet we're all still Canadians." [Emphasis added] [link]
In a previous post, here on The Langar Hall, titled: Multiculturalism: Canada's Biggest Mistake?, I wrote:
What we need is actual 'cultural pluralism.' Cultural pluralism will occur when Canadians or Americans see the Muslim hijab or the Sikh kirpan [in this case, read the Sikh turban] as not something foreign or belonging to only a specific community, but rather a cultural and religious marker of members of its own society. [additional statement added][link]
I applaud Kahlon for engaging in cultural pluralism. He is putting it into practice. He and his teammates are making it known that the Sikh turban is as Canadian as ….(maple syrup?).
Weightlifting
Representing the world of weightlifting, 5'3" Jasveer Singh (sometimes written Jasvir Singh), who came from Punjab in 2002, has become a Canadian and Sikh sensation (many communities have even held akhand paaths to raise money for him). He is the first British Columbian weightlifter to go to the Olympics in twenty years. Jasveer (Jasvir) Singh has been sponsored by many Sikh groups including the Khalsa Diwan Society New Westminster in hopes of bringing Olympic glory to Canada.
INDIA:
As expected the largest number of Sikhs will be coming from the region of our largest population. Nine Sikhs (a new corrected number after my previous possibly definitely faulty name analysis) will be competing this year in the Beijing 2008 Olympics. However, there is little information provided on the web about the Olympians. If you find or can add anything, please comment.
Athletics
Harwant Kaur is from Punjab and will be competing in the discuss throw. It seems that she has recently moved to Australia after a career in the Punjab Police with only dismal prospects. She had previously finished 13th at the Athens Olympics in 2004.
Manjit Kaur from Punjab will be competing in the Women's 400m race. She has recently been training in California under coach Cedric Hill. Manjit recently won gold in the Women's 4x400m relay and a silver in the individual 400m at the 2006 Doha Asian Games. She also won a silver at the Melbourne Commonwealth Games.
Mandeep Kaur seems also to be from Punjab. She is competing in the Women's 400m race as well as in the women's 4x400m relay. I could not find a picture or any other information.
Rowing
Manjeet Singh, a Chandigarh rower, has had much success at the junior levels. He will be competing in at the world stage in Beijing in the lightweight double sculls event. While Manjeet Singh and his partner Devinder Kumar are not considered medal contenders, they are hoping for a top-10 finish.
Sailing
Nachhattar Singh Johal will be the only desi sailor at Beijing competing in the Finn category (heavyweight dingy). He is currently ranked number 55 in the international sailing rankings.
Shooting
Abhinav Bindra was considered a child prodigy, but has had limited success on the largest competitive stages. Still he is considered a medal hopeful.
Mansher Singh also qualified for the Olympics after a nerve-wracking tie-shoot at the ISSF World Cup in Italy.
Manavjit Singh Sandhu has had much previous success at past international competitions, but the Olympic medals have allueded him. He was bronze in the Men's Trap at the 2006 Commonwealth Games and has had a number of other fine finishes including 4 gold medals at the Asian Clay Shooting Championships.
Avneet Kaur Sidhu is our sole female Singhni/Kaur shooter. She has been featured on a previous post here on The Langar Hall. Avneet hails from Bathinda and will be competing in the 10m Air Rifle.
I will create separate posts for the events so you can add any special quips, anecdotes, or their results there. I will also try to include the times of the events featuring these athletes. If I left anyone out, please feel free to comment and I will add them to the list. Let us support our community's sports stars.