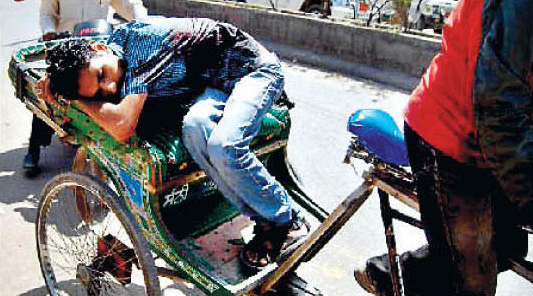 It has now been confirmed by Navkiran Singh, well-known human rights advocate and a lawyer for Bhai Balwant Singh Rajoana, that Ranjeet Singh is in critical condition, but is alive.  Our apologies for the incorrect information, but one can understand that with information from Punjab being limited, details are being lost.
Yesterday I wrote about Jaspal Singh, whose loss became well-circulated, due to social media and the outstanding work of Sangat TV and the Sikh Channel.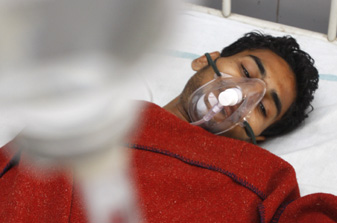 A very young Ranjeet Singh Mandher, only 16 years old, son of Jaswinder Singh, from village Pandher (Mukerian road) was shot by police.  With the heavy police fire, no one came to help him.  The veer had to take his own rickshaw to the hospital.  From there the hospital in Gurdaspur sent him to Amritsar, where he is in stable condition.  I am including the only picture I have received of the youth.  If others can provide more information about this young student, please do send it to us.
In other news, Bibi Kamaljeet Kaur was not allowed to meet the family of Jaspal Singh in Gurdaspur.  She was stopped on orders from the government.  Such is the government of Badal, where police offers open fire and underlings can only be suspended.  It only follows the logic of one that would promote a murderer as Sumedh Saini as DGP and give coveted MLA seats to the wife of a butcher like Izhar Alam.  The Punjab Government fears Bibi Kamaldeep Kaur and are trying to limit her movement.  At present, she is still giving interviews on Sangat TV and other media outlets.  Sangat TV has a livestream that can be seen here as does the Sikh Channel, which can be seen here.
A video by a Punjabi Hindu brother condemning the violence of the Shiv Sena is popularly circulating.  This brother, though he acknowledges that Rajoana's struggle was not his, reminds us that this fight is against the Government in our quest for ensaaf (justice), not against any other community.
Despite the Shiv Sena's attempt to communalize the struggle with their acts against symbols such as seen below, let us remember this is a national one and should not be subsumed under a mere 'religious riot'.
Finally, while I believe that the message of Bhai Balwant Singh Rajoana is primarily aimed at Sikhs and to stir our consciousness – such is the wonder of the Shaheed – other media outlets are paying attention.  Some have attempted to bring this site to attention and other Sikh social media outlets, but I have also seen examples of fine writing.  I highlighted one yesterday, but want to give special kudos to the courageous writing of Ruchi Gupta in the Indian Media.  She actually provides context to Rajoana's actions, as opposed to others, especially in the Canadian media, that have sought to divorce his actions from any political context.  Luckily one Canadian Sikh replied.
Finally, there have been rumors circulating on FB and other sites that Bhai Balwant Singh Rajoana had been removed from Patiala.  Lawyer Navkiran Singh and others have confirmed that this is false and merely a rumor.
As Bibi Kamaldeep Kaur labeled her website….The Sangharsh (struggle) of Truth continues….