It's been over a week now.  I've been wanting to write, but have been on the road, my head spinning with newspa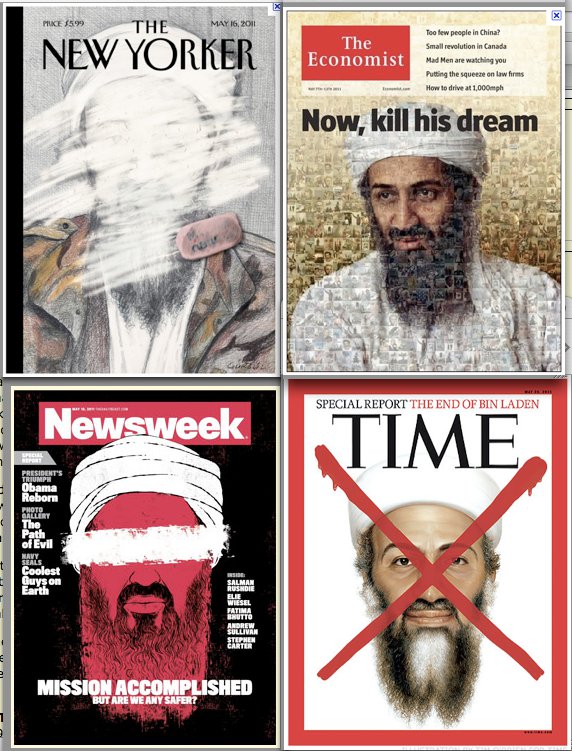 per headlines and the voices of cable news pundits.  Navdeep posted some thoughtful reflections and questions here, and in the meantime, we've had the opportunity to see the response to bin Laden's death throughout the country and world.  By now, we are all probably well aware of the spontaneous celebrations of thousands at Ground Zero and Time Square in New York City and at the White House, with victorious chants of "USA! USA!",  the night President Obama made the announcement of bin Laden's death.
I was traveling in New Orleans when the news hit, and the mood there was similar.  God Bless Americas were being yelled in bars of the touristy French Quarter, people running down the streets (drunkly) yelling "We killed him! We killed him!" with a disturbingly rage-filled glee.
I happened to be exploring the city on my own that night, and was immediately nervous when I heard the news.  Within a few minutes, several strangers made snide and/or aggressive comments about bin Laden's death directly to me, as if to imply that I was related to him.  Throughout my week of time in New Orleans and Texas thereafter, strangers heckled me with taunts of "Osama" almost every day.  One day, a young kid leaving school (maybe 10 years old) asked me, seemingly earnestly, if I was a terrorist.  And I was even pulled out of a night club in Houston by security because I was carrying a bag (which had an instrument in it).
Indeed, the death of bin Laden does not appear to mean the death of bigotry.  Colorlines reports:
A mosque in Maine was vandalized with the messages "Osama today, Islam tomorrow" and "Go Home." In Houston, a schoolteacher was disciplined for racially profiling a Muslim ninth-grader by asking if she was grieving her uncle's death on Monday. Also this week, Mohamed Kotbi, an Arab waiter who is suing his employer, the Waldorf-Astoria hotel, for religious and racial discrimination following the 9/11 attacks, has reported more taunts from co-workers following bin Laden's death.
I am curious if other Sikhs have experienced a similar rise in harassment.  What does it mean that when the US claims victory over Enemy #1, the general public vilifies Muslims and turban-wearing Sikhs even more?  Sometimes it seems we've made little progress since the hateful aftermath of 9/11, and perhaps are even moving backwards.
As I was hundreds of miles from my home in NYC, I found myself feeling relieved that I wasn't there to witness the celebrations taking place.  I was disgusted by what I was seeing on the television (and hearing on the streets), deeply disturbed by what appeared to be celebrations of death (assassination to be specific).  That night I posted on my Facebook page: "Where is this country's soul?"
I was also shocked that no one (the press, politicians, etc) seemed to be asking the question of why bin Laden wasn't captured, and why everyone seemed so fine (and in fact happy) about the fact that our government assassinated this man and threw his body in the ocean (no matter how horrible a man he was).
Noam Chomsky states:
It's increasingly clear that the operation was a planned assassination, multiply violating elementary norms of international law. There appears to have been no attempt to apprehend the unarmed victim, as presumably could have been done by 80 commandos facing virtually no opposition—except, they claim, from his wife, who lunged towards them. In societies that profess some respect for law, suspects are apprehended and brought to fair trial…

We might ask ourselves how we would be reacting if Iraqi commandos landed at George W. Bush's compound, assassinated him, and dumped his body in the Atlantic. Uncontroversially, his crimes vastly exceed bin Laden's, and he is not a "suspect" but uncontroversially the "decider" who gave the orders to commit the "supreme international crime differing only from other war crimes in that it contains within itself the accumulated evil of the whole" (quoting the Nuremberg Tribunal) for which Nazi criminals were hanged: the hundreds of thousands of deaths, millions of refugees, destruction of much of the country, the bitter sectarian conflict that has now spread to the rest of the region. (full article)
I ask again, where is this country's soul?
Perhaps it's not as grim as it might seem.  Yesterday, the Public Religion Research Institute just released the results of a survey it conducted days after bin Laden's killing, revealing that a majority of Americans say that celebrating bin Laden's death was wrong. NPR reports that the survey "found that most Americans think it is 'wrong to celebrate the death of another human being, no matter how bad that person was.'"
A majority of Americans are also opposed to the US wars in Iraq and Afghanistan (Afghanistan being the longest war in US history) as well.  Yet both these bloody wars (not to mention drone bombings in Pakistan) seem to have no end in sight, even after the death of bin Laden.
President Obama proudly declared in his speech announcing the killing of bin Laden:
Today's achievement is a testament to the greatness of our country and the determination of the American people.  We are once again reminded that America can do whatever we set our mind to.  That is the story of our history, whether it's the pursuit of prosperity for our people, or the struggle for equality for all our citizens; our commitment to stand up for our values abroad, and our sacrifices to make the world a safer place.
Yet, the so-called War on Terror (which Obama has dramatically escalated in Afghanistan and Pakistan) has only exacerbated anti-US sentiment, and yes, terrorism.  It has been well-documented that US Wars in the Middle East are not making anyone safer. Quite the opposite is the reality.  Hundreds of thousands of deaths of civilians and troops later, what kind of values are we standing up for?
Kai Wright wrote the day after bin Laden's death:  "The gap between rhetoric and reality has long been a defining trait of American life. Lies about our values have shielded us from the brutal facts of our nation ever since we built it on the back of genocide and slavery. But it is in times like these that the dissonance becomes unbearable."
Nevertheless, I remain hopeful that the collective soul of the people has the potential to be much stronger than political and economic agendas of our "leaders."  Our Gurus and our Khalsa ancestors taught us to remain in the chardi kala spirit as we fight for human dignity, for truth, and even, perhaps, for the soul of this country.