Posted by Brooklynwala in
Europe
,
News
,
Politics
,
Women
on 07 21st, 2010 |
412 responses
The French government is at it again.  France's lower house just passed a law that would m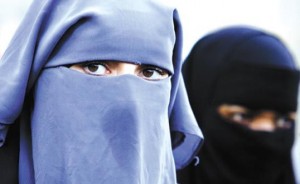 ake it illegal for women to wear the full Islamic veil (burqa or niqab) in public.  It would fine women 150 euros for not complying.   Sundari posted on this issue back in February, and now this attack on religious freedom has come one step closer to being the law of the land as the bill passed 335 to 1 in the National Assembly this week.  The bill would have to be ratified in September by the Senate to become law.
Proponents of the law say the National Assembly vote is a victory for democracy and French Values.  Justice Minister Michele Alliot-Marie stated it was a victory for, "Values of freedom against all the oppressions which try to humiliate individuals; values of equality between men and women, against those who push for inequality and injustice."
What about the value to practice your religion freely and  express your identity (religious or otherwise) through what you wear?  Madeline Bunting, in a great column in the UK's Guardian today, stated: "Women wearing the skimpiest of mini-skirts sit down on buses next to other women in saris, business suits, salwar kameez. None of these cultural codes expressed in dress are regarded as the business of the state. Nor should they be."
Bunting continues, "French politicians insisted on Tuesday that women need to be liberated from the full veil. Forcing people to be free has a long and undistinguished history – well described by many, including George Orwell – yet too many times an age is blinded by its own prejudices and forgets that liberation can never be imposed."
This isn't about whether we think wearing burqas or niqabs is a good idea or not.  The issue is whether a government should be able to impose its notion of national identity on its citizens (and non-citizens for that matter).  Sikhs in France are all too familiar with the confines of French identity.   This new law is a disturbing development that further pushes the French government's racist, assimilationist assertion of a homogeneous French identity– all in the name of liberation.