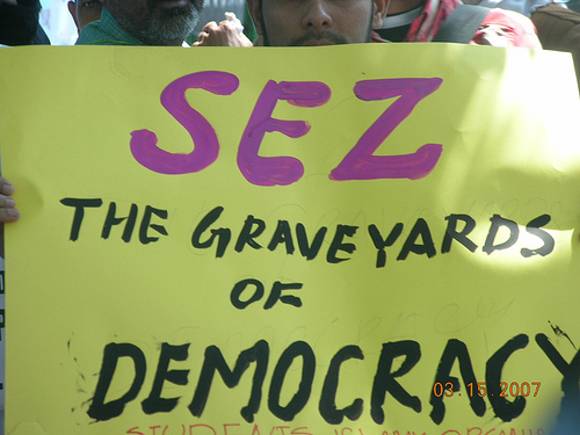 Earlier this month TLH discussed how the unseasonably dry summer in Punjab is threatening its agriculture and economy. This week, the Punjab Assembly adopted a resolution authorizing the development of additional Special Economic Zones, or SEZs, while streamlining and supporting the existence of pre-existing SEZs.
SEZs are not entirely new to Punjab. In 2006, Punjab cleared thirteen (13) SEZs for development and approval, and the proposal was approved by the Indian central government in 2007. The current number of "greenlit" SEZs in Punjab currently totals 12, but the number could increase extensively.
SEZs have a mixed review in development literature. The current Punjab policy creates a categorical pollution, labor, and tax exemption for new businesses. Neoliberal theorists tout SEZs as excellent models of "free market" development. Companies within SEZs have free range to do pretty much whatever they want, and there is no formal method of accountability unless a government revokes the SEZ  (but that, too, can be difficult to revoke for political and legal reasons).
It is that lack of formal accountability that often undermines worker power and worker capacity. Punjab has focused largely on attracting electronics and engineering SEZs, but it is unclear if this helps diversify the Punjab economy, or if it simply creates another dependency model of economic organization.
Beyond the question of economic organization and development, however, is a larger question of what a just social/economic order would look like. What could the alternatives be? And further, what values would an economic order embrace if it were to conform to principles of Sikhi? Punjab is not a theocracy, and I understand that the goal is not to conform its economy with a religious order. However, perhaps there is a valuable conversation around what it would mean to decrease unemployment while increasing economic parity across the Punjabi population.
SEZs don't incorporate the  values advanced by "double bottom line" companies, but perhaps this moment of economic reorganization is a political moment in which Punjab can restructure its economic and social goals. Perhaps it is an opportunity to ask whether our policy goals can create space for our professional lives to integrate our social and personal values.  What would an alternate development policy look like to you, and what kinds of goals would you want it to accomplish?