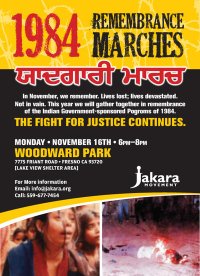 Through Sukhmani Sahibs, conferences, scholarships, film festivals, floats, and even ongoing camps, the Jakara Movement adds the next event to its on-going "Remember 1984″ campaign.
This November they begin their Remembrance Marches.
25 years ago there was a government-sponsored pogrom in Delhi and throughout many parts of India that left tens of thousands dead.  Orchestrated by the Indian Government, the perpetrators of these pogroms roam free today. Join us and connect in solemn remembrance with Sikhs and non-Sikhs alike as we commemorate the events of 1984 and call for justice and bear witness to the genocide.  We will not be silenced.[link]
The Event will consist of a series of silent marches in the various regions, followed by video screenings, speeches, and a candlelight vigil.
Attend one at a city near you:
BAKERSFIELD – Silver Creek Park – Saturday, November 7th, 2009, 5-7pm
BAY AREA – TBA
FRESNO – Woodward Park – Monday, November 16th, 2009, 6-8pm
RIVERSIDE – Glen Avon Heritage Park – Wednesday, November 18th, 2009, 6:30-8:30pm
For those in Bakersfield, this week (date to be updated) watch ABC affiliate KERO, Channel 23, to see members of the Jakara Movement talk about this weekend's Remembrance March in Bakersfield.
For more information on the march visit the Jakara Movement blog, website, or Facebook page.  See you there!