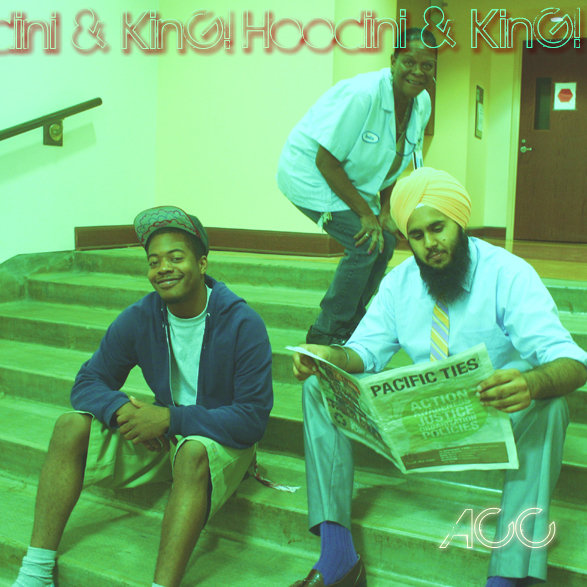 Here on TLH, we've covered a variety of talented musicians including Sikh Knowledge, Mandeep Sethi and Humble the Poet.  We've been following these individuals, their music, new collaborations and of course new albums. I am a huge believer that youth (yes, we have a particular interest in Sikh youth here in TLH) should be encouraged to pursue their talents regardless of what may be expected of us. These musicians are doing just that – and they are creating incredible music that speaks to the masses.
This post is for Hoodini & KinG.  I have to say Hoodini is one my favourites.  Not only is he extremely talented (listen to track 6/Keep it Rollin' and track 10/Til I'm Through of the mixtape) but he's a nice guy (a really nice guy)… and the kid has serious style.  It's like he knows he's going to make a mark on the world, and is dressed for the occasion…
So i didn't mean to just mention this mixtape in passing – you really have to download and listen to it yourself.  It is a really dynamic piece of work.  Hoodini & KinG! Present: A California Classic, is available here.   While Hoodini is the emcee, the album was produced by KinG! né Keith Rice – a 21 year old producer from the San Fernando Valley in Los Angeles (he's really really talented).  Even though the two went to different high schools, their mutual love of hip-hop was destined to bring their forces together so that they could make music that would "make people fall in love again."
I asked Hoodini what inspires him and what he told me was this,
inspiration comes from anywhere & everywhere.. sometimes there`s an issue that i want to address & i make a song about it.. sometimes i have a story that i want to tell and it comes out in rhymes.. sometimes i`m walking down the street and i overhear someone saying a phrase and i immediately start rhyming things with it in my head.. i guess there`s music in all aspects of the universe right?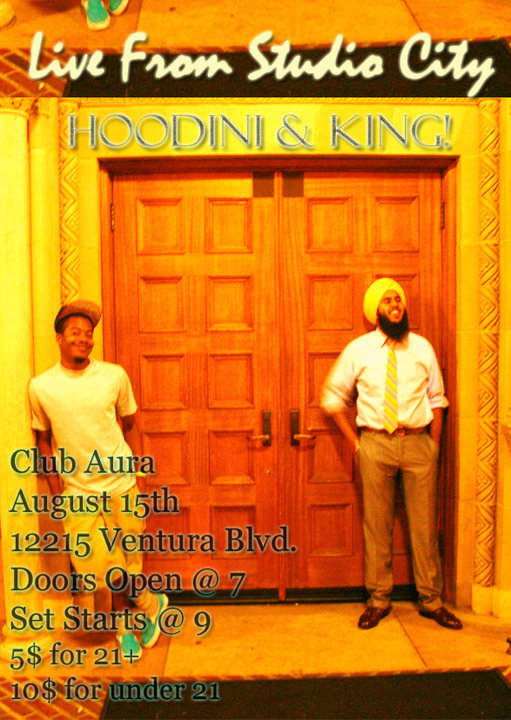 Right – and some of us are blessed with the talent to do something with that inspiration. Speaking of inspiration, i'm still anxiously waiting to blog about young Sikh women rappers/musicians too. I know they're out there  – Hoodini mentioned we should keep an eye out for Mystic Flava né Nimrta Saini – a young aspiring music producer from New York.
I can only imagine the amount of time and energy that went into making this California Classic but Hoodini & KinG! should be proud of this piece of work.  Go ahead TLH-ers, download it and give it a listen while you peruse through the rest of blog.  You won't be disappointed.
Hoodini & KinG! will be performing at 9pm this Sunday August 15th at Club Aura.  See the image to the right for more details.