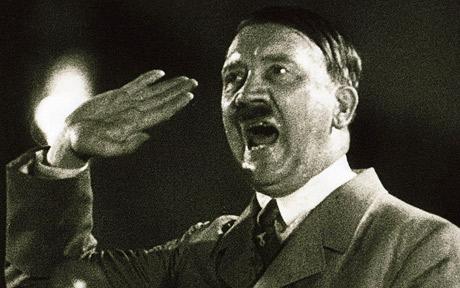 Sometimes some articles are too disturbing to not make a comment.
The word Mein Kampf immediately brings to mind Adolf Hitler's deluded dream and genocidal paranoia of the "Jewish peril".  Long the Bible of idiotic Aryan supremacist groups, the book seems to have found a rather new (or maybe) old niche market in India.
Sales of Mein Kampf, Adolf Hitler's autobiography and apologia for his anti-semitism, are soaring in India where business students regard the dictator as a management guru.

Booksellers told The Daily Telegraph that while it is regarded in most countries as a 'Nazi Bible', in India it is considered a management guide in the mould of Spencer Johnson's "Who Moved My Cheese".

Sales of the book over the last six months topped 10,000 in New Delhi alone, according to leading stores, who said it appeared to be becoming more popular with every year.
Despite claims by many that the sales have to do with its value as a 'management book', underlying the rhetoric reveals the real sinister side.
Dr J Kuruvachira, Professor of Philosophy of Salesian College in Nagaland and who has cited Mein Kampf as a source of inspiration to the Hindu nationalist BJP, said he believed the book's popularity was due to political reasons.

"While it could be the case that management students are buying the book, my feeling is that it has more likely influenced some of the fascist organisations operating in India and nearby," he said. [emphasis added]
While the India Lobby seeks to emulate and learn from the Israeli Lobby in the US, for all the calls of Jew-Hindu bhai-bhai by the media and many like-minded organizations for greater collaboration in defeating "Islamic terrorism", the underpinnings of Hindutva xenophobia show its much darker origins.
Mahatma Gandhi corresponded with the Fuhrer, pro-Independence leader Subhas Chandra Bose's Indian National Army allied with Hitler's Germany and Japan during the Second World War, and the Nazis drew on Hindu symbolism for their Swastika motif and ideas of Aryan supremacy.