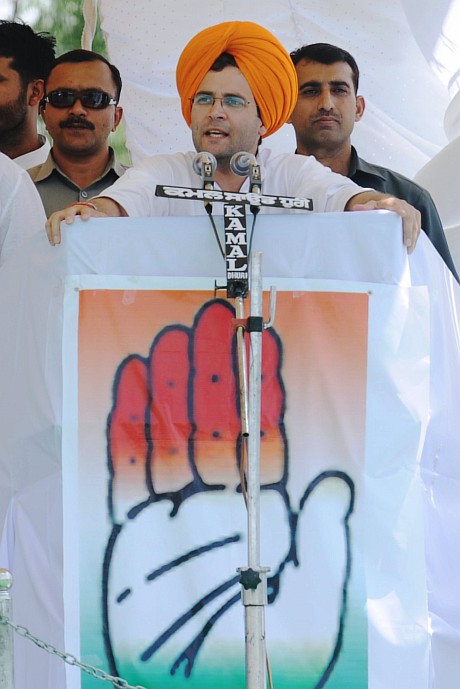 OR HOW NOT TO PULL A SIKH-RELATED PUBLICITY STUNT
I will leave the PR-stunt by Congress heir-apparent, Rahul Gandhi, son of Rajiv Gandhi, grandson of Indira Gandhi, and great-grandson of Nehru and his ill-advised (or rather ill-positioned pagri) to speak for itself.  A pictures is worth 1000 words and 'ridiculous' is one of those that come near the top for this election stop near Takht Damdama Sahib.
On a bit of a serious note, although I hate writing short posts without analysis, I came across a finely-written article about the 'Shoe-hurling Sardar and Deep-rooted Sikh Grievances' published in a Pakistani newspaper that I wanted to bring to our readers' attention.
I initially cringed when I read stereotypical sentences, such as:
However, Sikhs are known for their forthrightness and carrying a level head in emotionally charged situations is not one of their strengths.
Eventually I got over it and just focused on the substance of the matter.  Definitely worth a read.