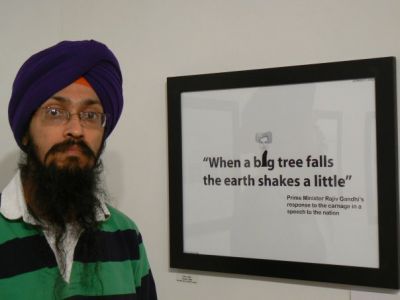 Vishavjit Singh's work hardly needs any introduction in Sikhdom.  Since 2003, his Sikhtoons have become ubiquitous on those webpages where Sikhs are found.  It was the events of 9/11 that first pushed this Sikh activist and 1984 survivor to tell his story and the stories and thoughts of so many more to pick up his pen.
From politics to 1984, from sports to Hindutva, few topics are beyond Vishavjit's interest.  This past fall, as so many Sikhs sought to remember 1984 in their own ways, Vishavjit Singh had a gallery display his artwork.
The New Century Artists is a nonprofit gallery caters to underrepresented communities and is among 15 galleries housed in a building located in Chelsea.  From November 17th to November 28th they played host to the exhibit – When A Big Tree Falls.
The gallery received tremendous press that can be read here and here.
One critic wrote:
Moving from one high-profile but misunderstood ethnic group to a lower-profile and misunderstood ethnic group, let me take this brief opportunity to describe an extraordinary exhibition I went to in late November. Vishavjit Singh, a Sikh cartoonist here in New York, sent me an invitation to the opening of a show of his cartoons about the 1984 massacre of Indian Sikhs, in the wake of Prime Minister Indira Gandhi's assassination at the hands of two of her Sikh bodyguards. Singh's style is spare and clean, and his pen is acid-tipped; I learned an enormous amount about a culture of which I knew very little. The cartoons were hung to create a continuous narrative, with the wall captions providing additional context. It was basically like a graphic novel diorama. Check out his site, Sikhtoons, for yourselves.[link]
Vishavjit's work is a labor of love.  It is in our own ways we find expression.  It is for the community to support them, encourage them, and  applaud them.  If you went to the exhibit, please share your thoughts and comments.
I leave you with a short video of the exhibit.