Posted by Brooklynwala in
Images
,
Law
,
Picture of the Day
,
USA
on 06 30th, 2011 |
29 responses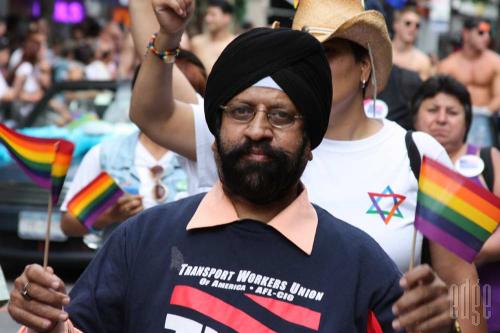 A friend sent me this photo yesterday from this past weekend's annual LGBT Pride Parade in New York City, which was attended by about a million people.  I've seen this Singh around NYC before.  He happens to be one of the transit workers standing up to the NYC Transit Authority's discriminatory "turban-branding" policy and now is also standing up for LGBT rights.  Sikh solidarity seems to be in full swing lately.
The Pride festivities in NYC were a little different this year since they came just after state lawmakers voted in favor of legalizing gay marriage in New York last week.  While some Sikhs (and Sikh institutions) have been outspoken about their opposition to allowing same-sex couples to marry, many others of us are celebrating this milestone civil rights victory in New York, seeing the fight for justice for LGBT people as no different as justice for women, people of color, or any other oppressed group.
Despite my previously alluded to reservations about the state sanctioning the way we structure our romantic relationships, households, and/or families, I believe that legalizing gay marriage is nevertheless a much needed blow to the deeply ingrained homophobia and heterosexism in our society.  A lot more than marriage equality is needed to create the sort of radical transformation our Gurus envisioned for our world, but it is, at least today, a reason to say fateh!