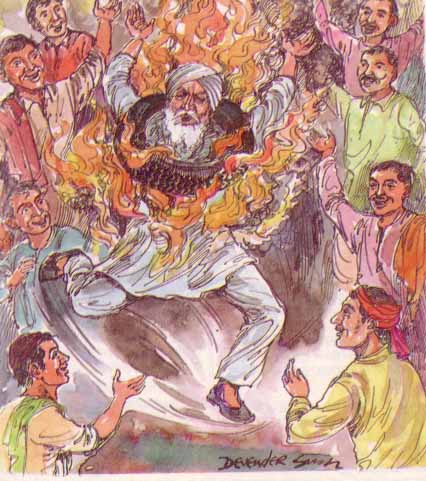 Michael Singh, a filmmaker, has been attempting for years to finish a documentary on his experiences during 1984.  However, without support from the Sikh community (yes, money) he has found himself unable to complete this work.  His goal has been to make a one-hour documentary based on materials he recorded and filmed during three days in Delhi when mobs were roaming outside the compound where he and his brother Surinder were staying. 
The documentary-film-in-progress Riding the Tiger will recount filmmaker Michael Singh's personal and intimate journey into self-identity as a half-Sikh young man who survived the atrocities of 1984, denying his Sikh heritage and passing for a white man. His story is set against the backdrop of the bloodiest year in modern Sikh history, a year of which many young Sikhs know little. [link]
The filmmaker is concerned that the traumatic events of 1984 are "quickly fading" from the Sikh consciousness and is asking the community, "How serious are you about preserving Sikh culture?"  Micheal's story begins when he and his brother return home, to India.  After Prime Minister Indira Gandhi lay siege on the Sikh's holiest site, Michael and his brother Surinder managed to infiltrate it and view the destruction following the gunning down of hundreds of pilgrims.  Upon returning to the US Micheal publicized his story, and to his delight, three Sikh film producers showed up at his apartment, expressing their desire to hear his interviews and bankroll his film.  Michael tells us of the tragedy of this visit,
A most encouraged Michael served them chai and samosas and agreed to meet in a more formal setting for a contractual agreement. Only after the three Sardars left did Michael realize they had stolen his taped interviews. "I don't know who they were. Perhaps they were Government agents. Whoever they were, I'd definitely like them to return my tapes, no questions asked," says Michael. That loss disheartened him enough to shelve the project for decades, until he began to notice how few records actually exist of 1984. [link]
 
The filmmaker finds that many young Sikhs are unaware of the events of 1984 and the lack of justice that haunts its victims and their families and because of this he is even more determined to finish the project.   He notes that there are enough concerned Sikhs worldwide who will help provide the monetary support he needs to finish the film.  While I do agree that the majority of our community would support such efforts and simply require a defined project to support, we often lack the initiative.  This film would be a way of documenting a part of Sikh history – and that should be reason enough to support it.  It's also important to note that the filmmaker is not only looking for monetary support for this film.  He is also looking for contributions of time and skill and of equipment.  
The filmmaker explains the significance of the title,
"Well, I don't depict Mrs Gandhi in the most flattering light," admits Michael.  "I see her as having mounted the tiger of political ambition and power at all cost.  And in the end, she slipped off and the tiger ate her.  Hence the title."
You can listen to Audio for the film and a trailer here.