Posted by Mehmaan (Guest) in
Activism
,
UK
on 08 11th, 2011 |
71 responses
Guest blogged by Naujawani Sardar
When the riots began in London last Saturday, we all thought they were a one-off incident and the world would be back to normal by Monday. Instead we awoke to find that more shops had been looted, buildings were still being set ablaze and that the rioters were now widening their search for new canvases to destruct. The thought was certainly there in the back of my mind, throughout my working day on Monday, but I think I purposely ignored it, hoping that it just would not happen: could a gurdwara be targeted?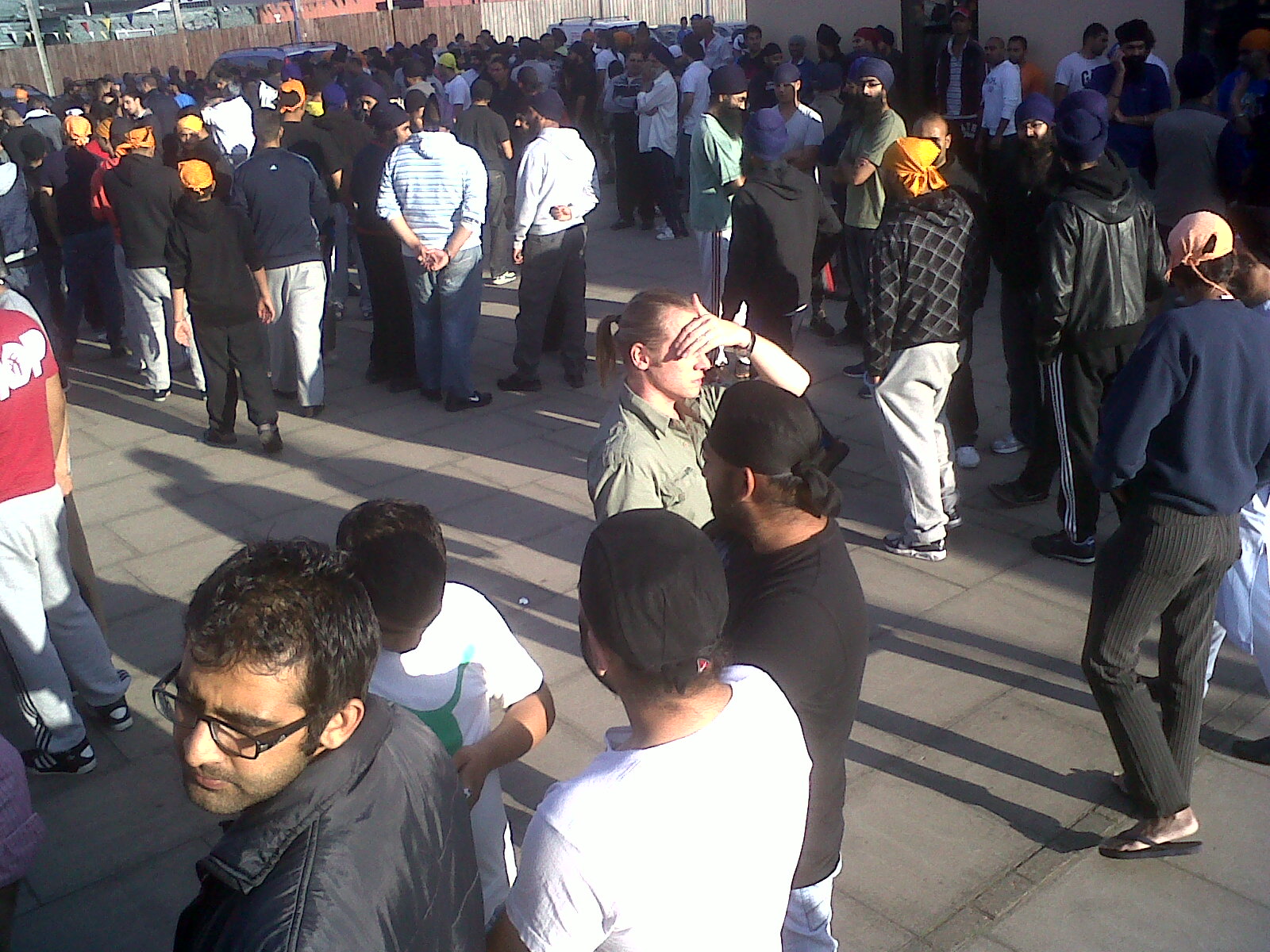 A small number of Sikhs however did not let the thought fall out of sight and continued to monitor the situation. Having realised that a problem may arise, albeit very late at night, they spent the best part of the night driving across London from one Gurdwara to the next to ensure that there was adequate security in place. Where there was not, one man stayed behind or where possible, awoke a local friend to come in. Thus was sewn the seed for a collaborative effort from a number of individuals to coordinate Sikhs that wanted to defend their Gurdware. Throughout Tuesday, Facebook, Twitter and SMS text messages were used to inform and mobilise people into preparing for the night(s) ahead. We at Naujawani also played a small role in coordinating these efforts and garnering support from individuals which personally gave me a greater insight into how things developed over the last 48 hours. It was clear to a few of us that if we were to have any success, people had to be appropriately distributed to different Gurdware. In west London, Southall is naturally the hub and meeting point, but throughout the rioting other Gurdware to the north and east of London were at a higher risk.
By mid-afternoon on Tuesday, the collaborative efforts resulted in an announcement to meet at Park Avenue Gurdwara in Southall at 6pm. I fled work at 5 running to catch tube and train, with the optimistic expectation of an organised meeting and some real unity. Whilst I found the latter, to the credit of every Sikh in London, the former was conspicuous by it's absence. As I returned from matha teking inside, the local MP arrived and proceeded to pose for photographs with large swathes of 'leaders' – men who largely have done little in life but make money, without spending it I might add! Ignoring the melee that now surrounded him, I made my way with a few acquaintances to one side of the car park where the lion's share of Sikhs had gathered. Appropriate guidelines and advice was shared, but alas there was no splitting up into groups, no dividing strategically… We took it upon ourselves to divide the few dozen that would listen to us into teams of 5 and began making calls to contacts at other Gurdware. We found which places needed people and sent a car with volunteers as appropriate.
Myself along with a few new and old friends went to the Khalsa Jatha Gurdwara, the oldest Gurdwara in the UK. Our night passed without incident and we used the time to forumlate ideas on how we could better network in the future and respond to incidents such as these. We also spent a lot of time using Twitter and Facebook to distinguish fact from fiction regarding what was actually happening and found remarkably that we Sikhs were winning support for our endeavours from across the Globe and most importantly in the UK. The free-to-air satellite channel Sangat TV did excellent work (and continues to) reporting in a way that established media outlets just refuse to. The hashtag Sikhs was soon followed into trending charts by SangatTV – a testament to the impact we were all making, in particular the 3-man camera crew from Birmingham!
We UK Sikhs are not renown for our media savvy abilities so the positive press that Sangat TV and their enigmatic presenter Upinder Randhawa gained has been an unexpected silver lining in this cloudy few days. Non-Sikhs have been tweeting and facebooking their admiration for our strength of character and indiscriminate support of the community. But with the good work of Sangat TV came the need to ensure that those who are capable of speaking to the media should put themselves forward. For far too long we as a people have shied away from having confidence in our abilities in the guise of wanting to remain humble, but all that this has achieved in this regard is to open the floor to those who neither know how to represent us, nor should be allowed to. With all due respect to the Sikh in question, BBC radio has repeatedly aired a 30 second soundbite from a young man threatening to kill anyone who enters the Gurdwara. Leaving aside how the story of Bhai Dalla is relevant here, his passionate claim and youthful zeal did our cause no favours. He came off sounding blood-thirsty, intolerant and thuggish – everything that the last few days should be disintegrating. Never one to shy away, I have been putting myself forward to speak and write where needed, using the skills that I have gained from over a decade in broadcasting and media experiences. I strongly urge others with similar skills to begin making themselves known in the community and share their talents!
The riots are not over, but have largely diminished, in no small part thanks to the Sikhs and others who have stood up as our predecessors to intimidation and injustice. There will be many lessons learnt from the past few days by wider society and we too should not miss this opportunity to progress. We must continue to nurture these networks that have emerged and not miss the chance to take the UK Sikh world into the 21st century. We still do not take advantage of new technology, our extensive network of young people with wide-ranging skills and of course our ability to sacrifice for the greater good. But we have proved that irrespective of our backgrounds, jathebandiyan and affiliations, we can work together for a common purpose; we can put to one side our petty differences and be the people that we have been waiting for. This week the World has gained a renewed respect for those who give water to their enemies, are willing to die defending the rights and beliefs of others, and truly believe that we are all of the same light as the Earth and the cosmos. Let's not let them down again.