Coblogged by: Jodha and Mewa Singh
After a suggestion from a fellow langa-(w)riter (thanks Reema!), we are trying a more thematic approach this week instead of summation.  Let's see how it goes: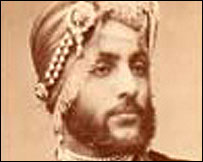 ——————————————————-
Chapter 3 and 4 this week had two very different topics.  The third chapter begins by looking at the movements and changes in settlement, demography, and social profiles of the Sikh-British, while the fourth chapter concentrates on institution-building within the community at its chief site, the Gurdwara.
Issues of Settlement:

The story of Sikh settlement in Britain begins with Duleep Singh, the son of Sardar Ranjit Singh.  After the defeat of the Sarkar-e Khalsa by the forces of the East India Company, Duleep Singh was separated from his mother, forced to renounce all claims and much state property, and later converted to Christianity, only to later reconvert to his ancestral faith towards the end of his life.  While Duleep Singh's story is an epic in and of itself symbolic of Sikh-Anglo relations, his migration to Britain was only to be the beggining of the Sikh presence.
As to be expected, the various settlement patterns have given rise to various demographic patterns.  With the inclusion of an optional religious category in the 2001 census, for the first time real data for the community exists.  Most shocking was the count of 335,000+ Sikhs, much lower than earlier estimates.  Also the census showed that most (56%) were UK born with highest concentrations in descending order (those with 10,000+ Sikhs): Birmingham, Ealing (Southall), Sandwell, Hounslow, Wolverhampton, Coventry, Redbridge, Leicester, Hillingdon, and Slough.
In terms of the social profile, religion is a key marker of Sikh-British identity.  However, they are not the most religiously self-identifying community as the order goes Jews (80.3%), Muslims (66.6%), and then Sikhs at 61.3% (with variance between non-UK born Sikhs at 64.3% and UK-born Sikhs at 55.9%).
While most Sikhs are of 'Indian' background, we are beginning on the margins to see those of mixed racial backgrounds that still identify themselves religiously as Sikhs.
Some other distinguishing statistics of the Sikhs is their extremely high rate of private home ownership.  The employment profile is rather uneven with overrepresentation in industries such as manufacturing, distribution, hotels and restaurants, and transport and communications, as well as self-employment.
Question on settlement:  With the new demography and social profile of the Sikhs as becoming more and more British-born, how will this change the community, practices of the faith, and its relationship to the Sikh diaspora and to the Punjabi "homeland"?

Issues on the Gurdwara:

The Gurdwara is the principle community institution of the Sikhs.  Wherever Sikhs go, they soon build Gurdwaras.  The evolution of such building follows a certain set pattern (that we also see in other Sikh diasporic communities): 1)renting houses/halls for communal gatherings, 2)purchase of larger premises, 3) construction or modification of existing premises for all-purpose Gurdwaras, as well as factionalism leading to separate Gurdwaras sometimes by caste, 4) and more recently the grand 'Darbar Sahib-like' super-structures (72).
The authors spend time focusing on the various caste-based Gurdwaras in the UK, but do note that these make up only some 17% of the total number of Gurdwaras.  The main reasons for their creation are either linked to discrimination or the desire to maintain a separate sub-identity.
A point of note that I found very interesting was on the topic of management battles.  I quote the paragraph in its entirety here:
Sometimes in circumstances of intense conflict the management committee is taken over by women.  For example, in three gurdwaras  – in Coventry, Leicester, and Birmingham – when rival factions, all men, came to blows within the premises, local women seized control.48  Guru Nanak Gurdwara, Smethwick, was managed by local women dring 1981-2; Guru Tegh Bahadur Gurdwara, Leicester, which had no elections for nine years, was also taken over by women.  The Shepherd's Bush Gurdwara, when faced with a crisis as a result of rivalry between two factions, delegated charge to an all-women's committee in March 1983; another dispute in 2003 required the Charity Commission's arbitration.(85)
I would love to hear more information about these incidents, if any of our readers can share.  Sounds like something similar to a previous discussion.
The authors make some interesting assertions that deserve analysis.  One of their first was that with the establishment of the "Sikh political system", community leadership can only emerge from within the Gurdwara (69-70).  So as we see attendance decreasing amongst the Sikh youth, will this still be true?  What will be alternative sites for leadership development?  What are the dangers and potentials of such possibilities?
Another interesting point related to the youth are the authors' forecast that "it is quite possible that in the future key prayers will be provided in the Romanic script (as in some mandirs) or some efforts will be made to use and English version of Guru Granth Sahib, though this is likely to be fiercely resisted by the traditionalists" (89).  Many young Sikhs will continue to turn to 'cyber gurdwaras' to access their tradition [this blog may be seen as part of that movement].  So my question here is what are your thoughts on these observations?  And what are the positive and negative affects and repercussions of the shift to the 'cyber Gurdwara'?
Many other topics in this section were not touched upon in this quick synopsis, feel free to raise some of those points as well.
For previous parts see: