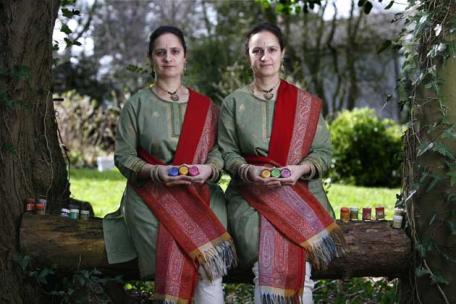 Does the West's emphasis of the individual subvert community consciousness in the art world? UK-based artists Amrit and Rabindra Singh explain that the primacy of the individual versus other relationships does not resonate with art elites as naturally as it may for others:
"Western contemporary art is all about the individual, the inner self," reflects Amrit… We were constantly being told that to be individual was healthy, that we had to be more different from each other, be influenced by different Western artists from each other, but that didn't seem valid to us. From the point of view of Sikh, Indian or even Asian philosophy, the community comes first and the individual is second." [emphasis added]
I thought this article was a fascinating description and reflection on the structural challenges Sikh artists, particularly Sikh women of color artists, face within the art establishment in the U.K.
The twins described their sense of community and of shared experiences when conceptualizing and creating their art. This first barrier — that art that does not conform to the frame of mainstream art teaching — seems obvious, and yet such a subtle feature that it makes it difficult to push around it. This is a fairly distinct difference (individual vs. multiple social awarenesses) of philosophical development between the canon of European/American philosophers and philosophers from the different regions of Asia, but it was fascinating to see how it repeats and excludes through artistic representation. Not only that, it creates a less obvious form of discriminatory thinking in the art academy than the standard, run-of-the-mill racism.
The other, more obvious, barriers centered on the stereotypes and resistance Sikh women face by virtue of practicing their faith:
The clash between the two codes, say the twins, left them, like many other British Asians, under sustained pressure to abandon their cultural heritage. Their final degree grades were even reduced because they wouldn't yield – though they subsequently had the marking overturned after a seven-year battle with academia. The prejudice they encountered – at one stage an examiner was reported to have remarked, "Give them a 2.2, they won't mind because they'll soon be in an arranged marriage"
Their experience as artists, and their impact on the art world, subverts many different and dominant expectations. The article describes this as a tension between traditional and modern; I would argue that their role plays with what we think of as modern itself. Personally I think this division is unhelpful; both women are clearly operating in a contemporary framework, but they utilize the full history of their training, experience, and their community's historic experience, to inform their work.
The language of tradition vs. modernism does not arise in this way for individuals who pursue, for example, traditional Shaker furniture-making. I would argue this false divide is a product of an Orientalist framework that tries to freeze the experiences of Asian-diasporic communities in time, and then places that expectation in tension with the realities of life. British Asians experience the same "modern" phenomena as the mainstream in addition to their experiences as racialized communities (both for being non-white, and for being Sikh).
This profile is fascinating and pushes against the accepted Occidentalist framework of contemporary art. I cannot wait to have the opportunity to see the art produced by this pair. Their method, and their form (miniatures), seem like a truly fascinating medium to explore contemporary experiences and events.