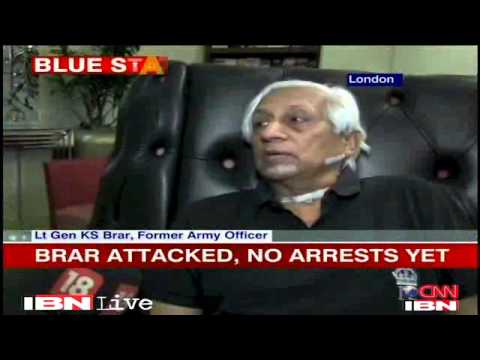 Yesterday's news about the attack on KS Brar has excited, angered, inspired, and agitated many Sikhs throughout the world.
Many have questioned the Indian media's initial assumption, before even the facts had arrived.  Still others are wondering if the news is even factual.  I have seen numerous postings on social media, believing that the attack was just a fabrication in order to make Sikhs appear 'violent' and 'extreme', especially after the recent goodwill expressed by some channels in the US and abroad after the recent Wisconsin Massacre. Finally, our brothers and sisters at Naujawani have written an intriguing article asking larger questions about a more sinister timing of all events (though not sure if I agree, well worth a read!).
I believe that the case of Kulbir Singh Barapind and Daljit Singh Bittu is extremely important, but that warrants a separate post.  I will return to that issue at a future time.
Personally I am quite surprised that no names have appeared yet, as I figure someone would probably take credit and I wouldn't imagine the names could be held a secret for too long within the community, especially if those that confronted him were young, as the claim is being made.  Still I think that I want to take this conversation in a different direction.  How do we 'present' SikhISM and its implicationsi?
I remember a time, when especially middle-class Sikhs were bent on telling everyone that SikhISM is a "scientific religion" or "modern religion."  Then the need would be to explain what that meant and usually people would describe the solar system, maybe the galaxies, maybe the number of species on  the planet earth and saying that somehow this equals 8.4 million and all other kind of hair-brained theories that they could make with randomly selected lines from JapJi Sahib.  I always found it interesting that due to their own complexes and insecurities, they would try to reduce the mission and revolution of Guru Nanak to that which would be found in an elementary science textbook.
Then came 9/11.  At one time, I wrote that the Sikh world didn't really change that much after 9/11, but I wanted to follow up here with how much our language did.  Our Sikh organizations and numerous Sikh individuals now had to "re-package" our Sikhi for a new market that were concerned with a so-called 'war on terrorism' and other boogeyman.  Overnight we changed.  No longer were we 'modern' and 'scientific,' now we became 'peaceful.'
Especially, with the recent massacre at Oak Creek, victim along with those innocents, along with any sense of shame (IJ Singh's last paragraph in a recent article is beyond repulsive, would he dare say this to the family members that lost lives!), is also our sense of self.  Google tells me that when I type in 'sikhism peaceful religion' I receive some 6.3 million results, with some 200K since 8/5/2012 with wonderful titles such as "Sikhs' greatest fears are realised: Peaceful religion targeted in temple massacre after years of being confused with 9/11 terrorists" (I assume Muslims are the 'non-peaceful' religion, despite years of us hearing that Islam is a religion of peace, although to be fair in a way they have a great claim from the very etymology of the word 'Islam.') or even "Sikhs hope to educate about peaceful religion" [notice in the article in providing 2 sentences on SikhISM, which 2 were selected in the article and spoken by the interviewee – "This is a loving country; that is why we are here. We love it, we are peaceful people."]
My point isn't whether Sikhs are peaceful or not, individuals come in all shapes and colors.  The level of violence against women, against female fetuses, and often against one another, doesn't seem to me that we are a particularly 'peaceful' people and should be so glib with our descriptions.  Moving from Sikhs to Sikhi – I hope we never forget the reality – Guru Gobind Singh also put a kirpan in our hand.  Sikhi is neither violent, nor peaceful.  We have a duty towards justice.  In order to 'sanitize' us so much for a gora audience, are we also willing to sacrifice our values, tradition, and history?
I know I could write another article on the stupidity (and double-standard) in a society that calls for Muslims and Sikhs to constantly say they are 'peaceful.'  Strangely this is not asked of Hindus, Buddhists, Jews, or even Christians who also have plenty of violence in their own histories.  Somehow Sikhs and Muslims are reserved this special in/dignity.
Now I do not know the facts of the Brar attack, however the thought that Sikhs couldn't or wouldn't do it seems to shock me as well.  I feel like dozens of people that I know would have taken the opportunity to confront Brar, should the chance have arisen.  In fact his own mama (maternal brother) did previously!!!!  Brar isn't alone in people that would probably be confronted by Sikhs, I would put KPS Gill, Tytler, Sajjan Kumar, and a number of other people in that category as well.  Would the confrontation be violent as this?  I am not sure, but I know that for many people the injustices in Punjab have not been forgotten by the populace, and in fact the Indian media openly celebrates the violent suppression.  Justice continues to be denied as it has been for nearly 30 years.
Should we believe that all Sikhs have forgotten their duty towards justice (not revenge) and have become brainwashed by all the 'peaceful' jargon that we have constantly spewed for a decade?  This may sell well for American, Canadian, and UK audiences, but again will we sacrifice Punjab and our own identity in this 'peaceful' pursuit to appease?