UPDATE: Both authors – Dr. Tatla and Dr. Gurharpal Singh – said that they will participate in some capacity in our first book club.  A number of well-known bloggers from some prominent websites have expressed interest as well.  ORDER YOUR BOOK NOW!  Only 1 week before we begin!
————————————————————
Coblogged:  Jodha and Mewa Singh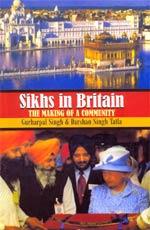 What we are about to suggest, to our knowledge has never been done before.
We are initiating the first TLH web-wide Sikh Book Club.  At this point we are not sure of the frequency as we will gauge the interest from this first attempt.
What are we suggesting?

For the first book of our book club, we are suggesting a simultaneous reading of Gurharpal Singh and Darshan Singh Tatla's Sikhs in Britain: The Making of a Community.
The two of us – Jodha and Mewa Singh – will facilitate the discussion (unless we can find someone better!).  We plan to invite the authors as well as some prominent Sikh activists in our community.  We hope Sikhs from all across the globe (especially UK Sikhs) will participate.  Please feel free to invite others as well!
The Book:
Over the years we have read numerous academic books on the Sikhs and their history and the works of Gurharpal Singh and Darshan Singh Tatla have always been amongst our favorites.  Thus, it was with great excitement that we see these two professors collaborating together.  Both have an intimate knowledge of the Sikh community in England and we can think of few others that would be more able to write such a tome.  This book, although focused on our brethren and sistren(?) in the UK, will provide us an avenue to delve into that section of our community, but we hope to broaden the conversation to understand other sections of our Sikh diaspora.
The Format:

Both of us – Jodha and Mewa Singh – will summarize the chapters and then pose some discussion questions.  We will not post our comments in the actual blog post and will only leave 'comments' just like everyone else.  The comments will be moderated to make sure they are stay on the subject of the book and its contents.  If you have any suggestions for the format, please provide them!
Every week we will read a few chapters and engage in a "close-reading" of those chapters.  Make sure you keep up!
Part 1 (November 3) – Chapter 1 (The Sikhs of the Punjab) + Chapter 2 (Punjabi Society and Sikh Migration)
Part 2 (November 10) – Chapter 3 (Settlement, Demography and Social Profile) + Chapter 4 (Gurdwaras and Community Building)
Part 3 (November 17) – Chapter 5 ('Homeland Politics': Class Identity and Party) + Chapter 6 (British Multiculturalism and Sikhs)
Part 4 (November 24) – Chapter 7 (Employment and Education) + Chapter 8 (Family, Gender, and Sexuality)
Part 5 (December 1) – Chapter 9 (Punjabi, Bhangra and Youth Identities) + Conclusion
Part 6 (December 8 ) – Closing Comments/Thoughts
What you need to do:
Order the book ASAP.  Don't delay as we are going to begin in two weeks.  Order it today.  I have the Indian reprint and it is quite a bit cheaper than the original print.  Although the book is a bit pricy ($25-$35), it will definitely be a much-referenced addition to your library.  Here are links for Borders, Half.com, Barnes & Nobles, and a few other websites as well.  If you are a student, check your library.  If you find it for cheaper, share the link with everyone else.
Invite others and help us spread the word!
If you are going to participate, leave a short introduction here in the comment section and let us know that you plan to take part.
Be ready in 2 weeks!