For Update – see bottom of post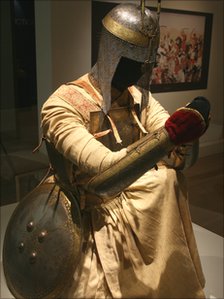 Although far from my home (hopefully @blighty and @joo kay singh can share), is an intriguing exhibit celebrating our beloved Darbar Sahib (erroneously called the Golden Temple) at Amritsar.
Nearly 80 artefacts from the past 200 years have been collected for this exhibit on display in central London.  Most of the items are said to be from private collections and this will be the first time they have been publicly displayed.  The entire exhibit is being organized by the UK Punjab Heritage Association and there is indication that it may travel.
Until then, enjoy the art through this BBC Video on the exhibit (unfortunately the BBC does not allow you to embed, so you'll have to follow the link).
In conjunction, it seems Sathnam Sanghera of A Boy With a Top Knot fame will be chairing a panel at the upcoming DSC South Asian Literature Festival (Oct 7-24) titled: The Golden Temple of Amritsar: Reflections of the Past on October 14.  The panel will highlight the Muslim rababi tradition of kirtan from one of the descendants of Bhai Mardana – Bhai Ghulam Muhammad Chand.  Unfortunately, it will also feature that most media-astute of the neo-Nihangs and pedlar of neo-Sanatan nonsense – Nidar Singh – who now claims himself to be the "Last Sikh Warrior" (I wonder if he could take on Tom Cruise, who we all know is the Last Samurai).  Regardless, the event is free and definitely worth a visit.
Our UK readers, let us know your thoughts!
———–
As promised @Singh, here is a helmet I found in the Sur Singh area in Amritsar district.  Note the 'joorha bump'.