Jodha previously blogged about national-level elected Sikh leaders and rightfully noted the low representation of leaders from the UK.  This week, Councillor Gurcharan Singh was chosen to represent the Conservatives as the Parliamentary Candidate for Ealing Southall.  Ealing Southall has one of the highest proportions of Sikhs in any constituency in the UK and contains the Sri Guru Singh Sabha Gurdwara, one of the largest Sikh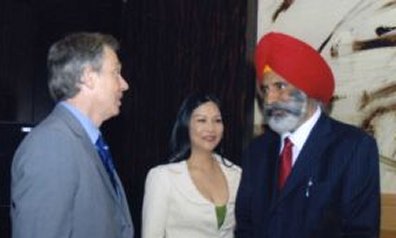 temple's outside of India.  Chairman of the Ealing Southall Conservative Association, Manjit Singh notes,  
"The people of Ealing Southall are fed up with Labour and want an MP who can make a difference. After the next election we will have a new Conservative Government led by David Cameron and a new Conservative MP for Ealing Southall in Gurcharan Singh. I look forward to taking our message to the voters and getting rid of this tired Labour Government and the local MP who is more interested in collecting his allowance than in serving residents." [link]
Interestingly, Gurcharan Singh was one of five representatives who left the Labour party last year to join the Conservative party.  Gurcharan Singh moved to the UK in 1972 and originally joined the Labour Party in 1976 and became a councillor in 1982.  Last year,  the Labour party faced internal division over their candidate selection and following Virendra Sharma's selection several Sikh Labour councillors, led by Gurcharan Singh defected to the Conservative party.  In June 2007 (and in the picture above with Tony Blair – Labour party) Gurcharan Singh said,
"I am full of hope for the future as this to me signals the beginning of an era where the Labour party can consolidate its leanings over the last few years and move forward with a new outlook based upon positive change. We progress." [link]
In July 2007 (and in the picture below with David Cameron – Conservative party), Gurcharan Singh and the 'Ealing Five' stated,
"We have finally reached the stage where it has become blatantly obvious that we would be doing our own voters a great disservice if we continue to dogmatically stick with a disorganised and divided Labour Party." [link]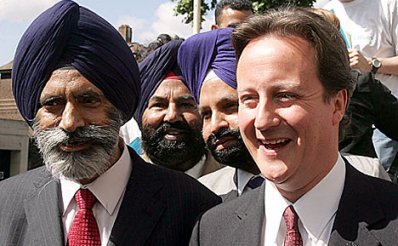 Hopefully our UK Langarites can help us dissect what this means for the constituency of Southall?  Like most politicians, Gurcharan Singh seems to be without controversy.  Questions about his involvement in the movement for Khalistan are scattered across various blogs and sites.  Interestingly, census data suggests that Sikhs only make up about 23% of the population of Southall.  In addition, it seems that Southall seems to be divided between Labour and the Conservatives.  Will Sikhs in Southall vote for Gurcharan Singh because he is Sikh or will they stick to their traditional Labour party?  Also, if I'm not wrong, Gurcharan Singh being elected would mean he would be the first turban wearing MP in the Commons.