"There is this very distinctive and self-incriminating silence within communities that have a history of 'honour' killings," he says. "The so-called community leaders, the influential religious groups and the local language newspapers remain deafeningly silent when these killings happen. But that silence makes them just as guilty as the people who kill in the name of honour." [link]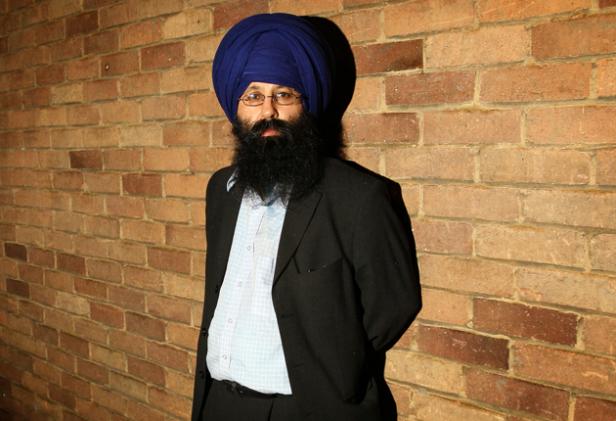 Statements like the one above, has made Jagdeesh Singh (pictured) a controversial figure within the suburbs of west London -home to many of Britain's 400,000-plus Sikhs. While many young Sikhs consider Jagdeesh a role-model for the way he stands up and speaks against parochial traditions, many older and more conservative members of the community believe he is a troublemaker "who needlessly provokes controversy by shining an unwelcome spotlight on things that should not be aired in public".
Eleven years ago, on 15 December 1998, Surjit Athwal disappeared during a holiday in the Indian Punjab with her in-laws. The 27-year-old customs officer at Heathrow had been desperately unhappy in her 10-year marriage to her husband Sukdave and had found love in the arms of another man. After years of abuse, she finally plucked up enough courage to seek a divorce but was persuaded by her domineering mother-in-law Bachan to travel to the Punjab for a family wedding in what she thought would be a final act of reconciliation. Instead, she was lured to her death. It took Jagdeesh Singh years to persuade the police to investigate his sister's disappearance properly, and many more years of painstaking detective work to encourage one of the Athwal family members to testify. Finally, nine years after Surjit disappeared, Sukdave and Bachan Athwal were found guilty of ordering her death at a family council meeting. [link]
So where does the controversy lie?  Many believe Jagdeesh is bringing unwanted attention to an issue which should not be discussed in public.  He states that "the communities that suffer from 'honour' killings don't want to be drawn into a debate about a type of murder they would far rather ignore," he says. "But they need to start having that debate; because we're not going to win this fight without them."
In an attempt to address these cases appropriately, police offers are being trained to identify red flags. While at one time they would dismiss calls for help from women as "hysterical paranoia" – accusations of honor violence are now prioritized. However, many believe there is still a missing element in the fight against honor killings.
"The vast majority of people in my community abhor 'honour' killings but that doesn't mean they are willing to speak out against it," says Mr Singh. When his sister disappeared, the local gurudwaras (Sikh temples) refused to allow the police to put up missing posters or make appeals to their congregations calling for anyone with information to come forward.
While our community may claim to "abhor" this type of violence against women, it is clear that we have no real way of identifying how common these cases are.  We can barely have conversations about domestic violence or alcohol abuse – so i can just imagine how little we know about women who are victims of honor killings.  While Jagdeesh Singh is fighting in memory of his sister, Surjit, the hope is that he will raise enough awareness so that similar acts like this don't continue to occur.