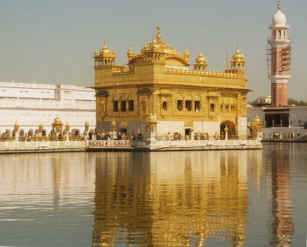 For some Sikhs in Punjab, apparently two Harmandar Sahibs. Or at least that's the argument between the SGPC and a group of Sikhs. The SGPC argues that a group of Sikhs are building a replica of Harmandar Sahib, and that they stridently oppose any "imitation" gurdwaras (my phrase, not theirs).
The Sikhs, who are definitely building a gurdwara (but whether or not it is intended to be a replica is contested), argue that the SGPC is trying to stir up trouble and adopting wedge politics tactics to scramble for power.
At first I read this story and thought to myself, "Wow, that is wacky." But the longer I've reflected on it, the more I have to ask — REALLY???
Honestly, this whole story is ridiculous. If folks are trying to build a replica of Harmandar Sahib, then the attempt is ridiculous, and if they aren't, then the accusation is ridiculous. But it did make me wonder two things: 1. What is the obsession with replication instead of creation, and 2. Is this really the most important battle the SGPC has to fight right now (i.e., is this the best use of its limited resources)?
The cynic in me says that the SGPC's opposition is not rooted in a sense of propriety, but rather, in a sense of property — that they control the gurdwaras, including any replication of the famous image of Harmandar Sahib. This is, of course, not a particularly charitable representation of the SGPC, but I don't put any stock in its common sense or conflict resolution skills.
But let's say that this group of Sikhs really is building a replica, and the opposition is legitimate. I understand the keeping up with the jones's mentality that we have critiqued and discussed here before. But it makes me wonder, will our sense of what makes a gurdwara a gurdwara always be locked into some materialistic, narrow vision of what a "proper" gurdwara looks like?
I have mentioned before that every Sikh's home is, to an extent, a gurdwara, and that this artificial division of spiritual/non-spiritual space doesn't really reflect the ethos or goals of Sikhs as a community. Similarly, how can building life-sized replicas of Harmandar Sahib further the goals of religious education/learning, or uplift our community? Could we invest in perhaps building a life-sized replica of the clinic the fourth Guruji founded, or a multi-religious community school?
The backwards-facing attachment to replicating Sikh historical buildings creates strange and sometimes inappropriate results without really getting to the core values, principles or goals underlying these (literal) structures. I would much prefer that folks used their time and energy — on both sides of this — investing in initiatives that further social equity or community health/development than spending hours arguing about, or investing in, this strange enterprise.
I also think it's a waste of community energy not to pick our battles. It is unclear how close this project hopes to approximate Harmandar Sahib, but for all we know, it is built in the historic style of other gurdwaras that also house a sarovar. Maybe there is legitimate cause for objection, and maybe the SGPC is not jumping the gun. Nonetheless, this seems like a strange battle to pick in the wake of several other recent unsettling and violent exchanges.