Only every so often I come across a petition in my inbox which advocates for an issue that I feel strongly about.  I find myself more than happy to take the few minutes required to click on the links and add my name to the "Undersigned."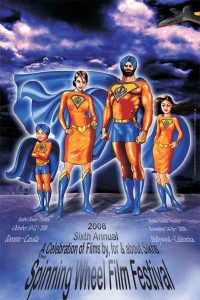 A few days ago, I was sent another such petition, but to be quite honest I didn't quite know what to make of it.
The petition, drafted in response to an advertisement for the upcoming Spinning Wheel Film Festivals, states that the "superhero" image being used depicts Sikhs in a negative manner.  The author(s) suggest that the characters shown in the poster are portrayed in ways that go against the Sikh Rehat Maryada and Gursikh principles.
The current poster diminishes Sikh identity by playing fast and loose with Sikh Rehat Maryada in presenting the lead male and female characters as superheroes and role models. They appear more as villains, abandoning the true Sikh virtues. Going about "saving the world" with the hair uncovered is far from being obedient to Sikh Rehat and to the visible identification as a Gursikh. The Kirpan is supposed to be worn in a Gatra, not attached to a belt. Furthermore, pierced ears as in the case of the young girl are not in the spirit of how Sikhs should raise their children towards principled Sikh living.
I have my own opinions about the SWFF as it stands today, and although I was somewhat surprised by the choice of promotional material being used (from an aesthetic perspective) – I was much more intrigued about the nature and origin of the petition.  I don't know who authored the petition (does it matter?), but it brings up a much larger issue.  The petition goes beyond a simple commentary of promotional material.  The various comments left on the petition (even the incoherent ones) suggest that many individuals within our community still believe that Sikhs are only defined by certain external attributes:
This is really painful to see inadequate and incorrect portrayal of Sikhs. If we want our next generation to see their community portrayed in the right context in media so that it induces Charhdikala in them, we need to wake up and think about how to preserve our true identity and instilling pride in it.

We are ordinary folk, not supermen/women/children.

I do not fully agree with the petition in terms of a sri sahib having to be in a gathra and us not being able to show ourselves as 'super sikhs'.
Here at TLH, we're all about addressing images that misrepresent Sikhs but, for me, this petition is creating more divisions within our community.  As Sikhs we all appreciate that the Sikh Rehat Maryada is our accepted code of conduct and it is something we should all try to uphold.  However, embedding a sense of fear, as I believe this petition does, is doing more damage than good.  The SWFF, for example, has not historically been a festival depicting Sikhs in only their single-faceted Gursikh light (e.g., many films are geared towards a much wider (non-Sikh) audience which can be evidenced by films such as "Ocean of Pearls").  But where do we draw the line?  We are finally celebrating Sikh art and many will agree that events such as the elite SWFF have done a lot of good for our community.  If we are going to petition the poster -are we also going to petition the films being shown since they do not all align with the Sikh Rehat Maryada?  Then what about the Sikhnet Youth Film Festival – will we also attack those efforts since not all the films depict characters or are produced by individuals who are fully Gursikh?
If you ask me, it's a slippery (and complicated) slope…
[Disclaimer: I have posted the image above in order to provide context.  In no way is this an endorsement of the image or of SWFF's use of it.]