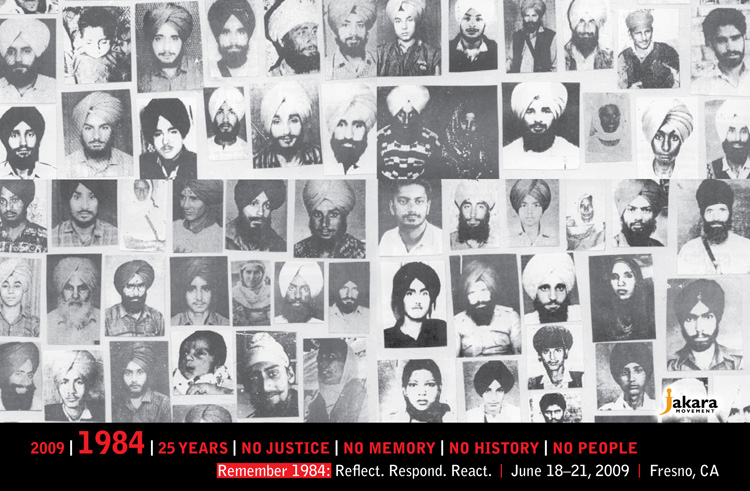 The topic of 1984 is hardly new in The Langar Hall and despite protestations from some amnesia-desiring commenters, we will not forget the Shaheeds of Darbar Sahib, the pograms in Delhi, the Ghallughara against the Sikhs from 1978-1995, or even the continuing impunity that continues today.
We have highlighted many events in the past and we will contine to do so.
In that spirit, I strongly urge TLH readers to attend this year's Jakara Movement conference in Fresno, CA from June 18-21st.  A number of invited guests' names will be announced in the upcoming week.  The title of the conference is "Remember 1984: reflect. respond. react."
2009 | 1984 | 25 years | No justice | No memory | No history | No people

Despite the fact that many wish to forget the events that befell and have shaped the Sikh Nation, it is vital for the 'next generation of Sikhs' to be aware of our past and understand how it shapes our present and our future. While twenty-five years have passed since the attack on our sacred home, much has changed and much has remained the same. For the Nishan Sahib of our Nation to remain tall, it is for us to study our history, remember the past, and continue the fight for justice.

This year at Jakara, we will Remember 1984 and celebrate those Kaurs and Singhs that made the ultimate sacrifice for our Qaum.

Join us in Fresno as we Remember 1984: Reflect. Respond. React.
Register here TODAY and avoid a late fee.  Below the fold you'll find the agenda.  See you there!
2009 conference agenda
Wednesday
3pm – Facilitator Check-In
Thursday
6–11:30pm Attendee Check–In
7pm – Beginning Ardas and Langar at Gurdwara Singh Sabha Fresno
7:30–8:30pm – Diwan at Gurdwara Sahib
9–12am – Ice Breaker / Lazer Tag
Friday
6–10am Continental Breakfast by Holiday Inn
8–9am Japji Sahib and Shabad Kirtan
10–10:30am Welcome/Introductions
10:30–12pm Remembering (A Contemporary Analogy)
12–1pm Presentations
1–2pm Lunch
2–3:30pm Reconnecting (Hearing the Voices)
3:30–5pm Reflecting (Gurbani Vichar)
5–6pm Recalling (Video)
6-6:30pm Conclusion
6:30–7pm Rehraas Sahib
7–9:30pm Picnic & Dinner at the Park
8:30pm Revering (Candelight Vigil for the Shaheeds)
10–11:00pm Movie Screening
11:30-1:30pm Bowling & Pool Activity
Saturday
6–10am Continental Breakfast by Holiday Inn
9–10am Japji Sahib and Shabad Kirtan
10:30–11:30am Recognizing (Understanding the legacy on the Sikh Diaspora)
11:30–1pm Reaffirming (Creating a 1984 Charter)
1–2pm Lunch
2–2:45pm Recollecting (Panel Discussion)
2:45–3:15pm Reacting (Open Forum)
3:15–4pm Responding (Ways to Get involved)
4–5pm Realizing (Making a New Reality)
5–5:30pm Conclusion
5:30–6pm Rehraas Sahib
7–12am Formal Banquet & Talent Show
Sunday
9–10am Japji Sahib and Shabad Kirtan
12–3pm Closing Banquet