We tend to complain a lot.  Really, we do.   We complain about the lack of activisim by Sikh youth.  We complain about not being able to understand Gurbani or be able to do Kirtan.  We complain about the disconnect between Sikh elders and Sikh youth.  It's the status quo – to spend time dwelling on what's wrong in our community rather than celebrate what's actually going right.  
However, in recent years we've been seeing an increased number of Sikh student or Sikh youth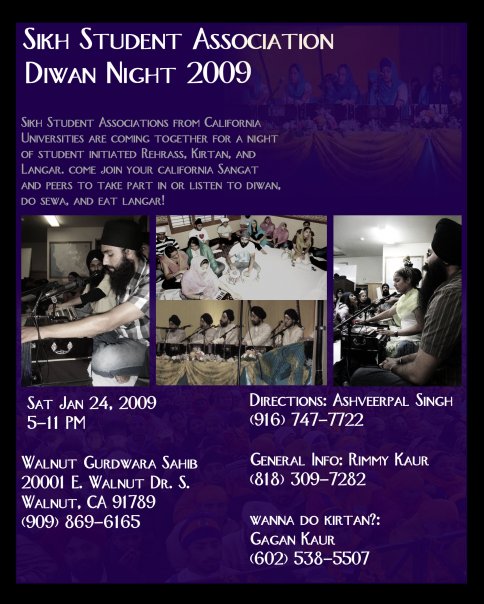 run events – which means it's becoming clear that the status quo is no longer okay.   I think it is not only important, but necessary, for Sikh youth to take more of an active role in their community.  So it was refreshing for me to hear about this student initiated event which is being planned in collaboration with the Sikh Student Associations across California.   This Diwan Night, which is to be held on January 24th 2009 in Southern California,  will bring together Sikh students from across California for a night of Rehraas, Kirtan, Sewa and Langar.  It's important to support these types of initiatives and encourage Sikh youth to participate in coordinating these events.  I hope this is one of many student initiated events which brings various organizations together in the hopes of actively involving youth in Sikhi.
The event is on January 24th, 2009 from 5-11pm at Walnut Gurdwara.  If you would like to participate in Kirtan, call Gagan Kaur at 602 538 5507.  For general information, call Rimmy Kaur at 818 309 7282.