Today we remember twenty seven years since June 1984.
We remember twenty seven years since Indira Gandhi sent the Indian Army tanks and artillery to the Darbar Sahib Complex and forty one Gurdwaras across Punjab on the shaheedpurab of Guru Arjan Dev Ji.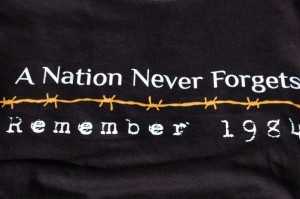 We remember twenty seven years since bodies lined the hot marble of the parkarma. Though Government reports indicate 493 civilian deaths and 83 army casualties, eyewitness accounts suggest the numbers were much higher since 10,000 pilgrims and 1300 workers were unable to flee the Darbar Sahib complex on this day.
We remember twenty seven years since books, manuscripts and other documents have been reported missing from the Sikh Reference Library numbering 10,534. The library which was intact on June 6th had been burnt down by June 14th. In April 2004, many of these writings, which included handwritten manuscripts were reported to be in the hands of the Union Government where they remain today.
We remember twenty seven years since the events that spurred the November 1984 pogroms and the government lead counter-insurgency in Punjab which left a generation of 25,000 missing.
We remember twenty seven years since Sikh women (and men) learned too well that coercion does not just come from tanks and artillery – that sexual violence can be a systematic and deliberate weapon of the State.
We remember twenty seven years since Punjab was left a political climate that hid the state's impending agrarian crisis and its interrelated manifestations of farmer suicides, drug addiction and gendercide, even when reports as early as the 1985 Johl Report warned that the farming sector was faltering and the real need to diversify crops from the standard wheat-paddy rotation.
We remember the impact this had on the Sikh Diaspora, the communities New York, California and Canada, and the tireless nights many of our fathers and mothers spent out, mobilizing themselves even as recent immigrants with young daughters and sons.
We are a community that is well versed in Remembrance.
Not just because of 1984, but because our Guru reminds us that Remembrance is the highest way of becoming One with the Divine.
As Guru Arjan Dev Ji writes in Raag Maajh: Ooch athhaah baea(n)th suaamee simar simar ho jeevaa(n) jeeo | Highest of the High, Unfathomable, Infinite Divine Master: continually Remembering You in deep meditation, I live. ||1|| (Panna 99)
Our Guru Ji encouraged us to be self-reflective in this act Remembrance, that Life is found through Remembrance.
Each year, as we approach June, I am reminded by my brothers and sisters to Remember '84 (or on other days to NeverForget84), through vigils, through poetry, through testimonials, and even through ardas. But recently I really started asking myself this question:
What does it mean to Remember?
I say this because, I do believe Remembrance can hold tremendous power when it has a rhyme and reason. A vision.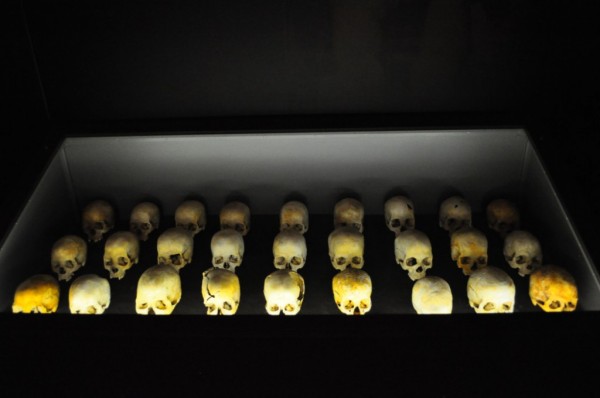 Take the Kigali Genocide Memorial Center in Rwanda for example. The memorial serves as a burial ground for the 250,000 who died in the 1994 Rwandan Genocide. But this act of Remembrance has transcended the Rwandan community alone and is a remarkable statement against any form of genocide committed. The center includes an exhibition on the history of genocidal violence across the world, and in the first three months of the Centre's opening, over 7,000 international visitors visited the center out of the total 60,000 visitors.
But I also say this, because while memory is important, I am also reminded that Remembrance is not an end in itself.
In a scathing recollection called 'The Holocaust in American Life,' historian Peter Novick describes the phenomenon 'Victimization Olympics,' whereby the process of Remembering can leave a community in memory and memory alone, perhaps not reaching the potential of memories to move beyond a reiteration of what is known.
It is indeed helpful to understand why we Remember. Most of us have heard that all too familiar Milan Kundera quote, "The struggle of man against power is the struggle of memory against forgetting."
But today Langa(r)eaders, today we want to hear from You. Twenty seven years later We Remember. We Remember. We Remember. But why do we Remember '84?