Guest Blogged by Mewa Singh.
A bit late, but every bit warranted.
Let me begin. I am a HUGE Rabbi Shergill fan. I went to a Dharmendra/Sunny Deol "concert" two years ago (why they are called 'concerts' I have no clue) and Rabbi Shergill was performing. I think I was the ONLY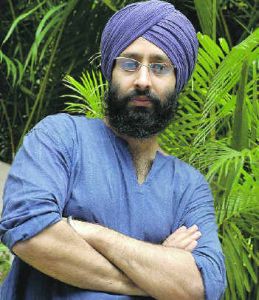 Rabbi Shergill fan in the audience and in certain parts of California that isn't too surprising. Although my friends and family made fun of me, they were kind compared to the rest of the audience. The audience yelled their ever-so-kind "Eh ki bakwas hai? Bhangra Ga!" (What is this crap? Sing Bhangra!) and began to boo him off the stage in the middle of his 'Chhalla' performance. Although I love my hometown, sometimes we are stupid.
Rabbi's first self-titled album played in my car for months straight. Despite the ridicule of all of my friends, I was mesmerized by his brilliance. In my own version of 'elitism,' I just thought they couldn't "understand" Rabbi. How brilliant was this contemporary music artist not only recreating but reinterpreting classic poetic metrics and musical composition forms with current political and social content. While his "Bulla Ke Jana" garnered critical attention and success, for me his "Jugni" with its political content, "Totia Manmotia" for its social charge and reinterpretation of a whimsical Mughal-period popular dialogue between parrots, and the thrilling rendering of his Shiv Kumar Batalvi in "Ishtihar" sent tingles down one's spine. Sepia Mutiny's Amardeep criticized Rabbi's earlier supposed "Sufi/Sikh spiritualist" image, however, such a reading could only be made by one that had never listened past "Bulla Ke Jana."
Although three years in the making, Rabbi returns with a new album Avengi Ja Nahin (the website includes song samples, videos, and even lyrics). The album has 9 tracks and I have yet to listen to all of them. The cover song "Avengi Ja Nahin" is a nice love song. The other song to gain much attention is his "Biqlis" that provides a voice to the many voices lost during the anti-Muslim government-sponsored pogroms in Gujarat in 2002. The song is stirring, being both patriotic but critical.
Punjabis can argue whether Gurdas Mann's classic Chhalla from the movie Laung Da Lishkara is the best or Rabbi's new rendering. For my vote, I just want to add that Rabbi is on the world stage singing Punjabi (in his Jugni invoking that the solution to today's problems was to invoke the Guru's name), while during the 1980s and early 1990s Gurdas Mann went to Bombay and record plenty of Hindi content.
However, especially important for a Sikh audience would be a discussion on his song "Pagri Sambhaal Jatta."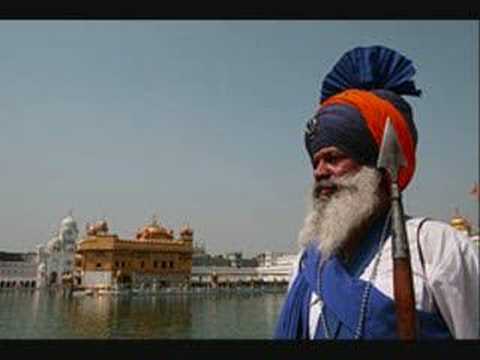 Interestingly, in one of Jodha's first posts recalling the "Top 5 Sikh Successes of 2007," he wrote:
As discussed previously, the 'Sikh turn' is occurring. The psychological tragedy of the post-1993 Sikh community is beginning to wane and we may be witnessing the dawn of a new era. It may not be in the Khalsa symbolic form that many hope, but a religio-ethnic movement is occurring. The youth are not disinterested and disconnected; they are engaged and can be mobilized. The pull of the pagri is not dead in Punjab either as we see many Bihari migrants joining the Qaum's ranks. This is a good sign. A new generation will soon have its own version of 'pagri sambhal jatta.' [Emphasis added] [link]
Could Rabbi have read Jodha's post?  Well I doubt it, but still I do not think Rabbi's version of Ramdhari Singh Dinkar's classic poem will be that clarion call, atleast because it does not have a catchy tune (am I smoking crack or does the beginning sound a little like REM's Everybody Hurts?).  Still the song warrants a discussion.  Even Jagmohan Singh Tony, one of Punjab's leading thinkers, has written an open-letter to Rabbi praising his music. 
The original poem was written Ramdhari Singh Dinkar during the early years of the 20th century. Taken up by the Punjabi patriots seeking to overthrow the British yoke, they called out
Pagri sambhaal o jatta; pagri sambhaal oye
Loot Leya Maal Tera, Haal Behal Oye,
Oh Faslaan nu khagaye keerhe, tan te nahin lere lirhe
Bhukaan ne khhoob nachorehe, ronde ne bal oh Pagri
Bande ne tee leader, raje te khan bahadur
Tenu le khaavan khafir, vichh de ne jaal oh- Pagri
Hind hal tera Mandir, usda pujari tu
Challega kadon tak, apni khumari tu
Larhne te marne di, kar le tayari tu – Pagrhi
Seene te khaave teer, Ranjha tu desh hai heer
Sambhal ke chal tu vir–Pagri
Tussi kyoon dabde veero, uski pukar oh
Ho-ke ikathe veero, maro lalkaar oh
Tarhi do hattharh bajje, chhatiyan nun tarh oh
Pagri sambhaal jatta, pagri sambhaal oh.
Many casteists believe that the call to the 'jatts' has something to do with caste. The movement was widespread amongst the entire peasantry. The limitation of the term 'jatta' from 'farmers' in general, to specify one caste is only movement within the last seventy years. Prior, the term had far more widespread usage.
In Rabbi's re-rendering of the classic poem, he adds a litany of Sikh historical heroes. Calling for Sikhs of today to remember those that have laid a path before them, Rabbi is engaging in a historical exercise that is similar to our Ardas, except our Ardas does not specify particular names apart from those of the Gurus. Rabbi's lyrics can be found here.
Rabbi calls for his listeners, a new generation of Sikhs:
Bina Guru ko na vali jatta/ No one but the Guru is your master peasant; Kasna paina tainu lakk aapna/ You'll have to tighten up your waste-strap (where the sword once went); Lanbhion aa ke kisey nahion sambhnan/ No stranger is coming to your rescue
The last line is brilliant. Too many times I hear Sikhs wishing for a "great Sikh leader" to magically appear or they are waiting for the SGPC, or Parkash Badal, or some other person to come and 'save' our community. However, our community's liberation will not come at the hand of another. No one will come to "save" us from the heavens. It will be our work, our seva, our strength, our determination, our unity, and the Guru's kirpa that will transform our community.
After remembering on some of the Sikh greats from centuries past, Rabbi recites the powerful words of Guru Nanak:
Jau tau prem khelan ka chau/ If you wanna play the game of love; Sir dhar tali gali meri aau/ First put your head on your palm; It marag paer dharijaey / If you set foot on this path/ Sir deejai kaan na keejay/ Don't evade self sacrifice"
However, he cannot help but ask:
Asan keeta jo aakhia si Guru/ We did what the Guru asked; Par ajj kittey phassiay jo kadey hoia si shuru/ But today where have we become stuck which once we started?
Finally, in his conclusion he makes an ominous description of our current state:
Tere hath ki aaya jatta/ What did you lay your hands on peasant; Tavarikhan da ghatta/ The dust of history; Be-ittefaqian de turhi/ The chaff of disunity; Aa vekh uddadi pai u/ See how it flies
Some idiots in the Indian media have seen this song as 'communalist' because they read Sikh history as a fight against Muslims.  (I am assuming they would want all Sikh history banned as well?) However, only those with a communal interpretation of Sikh history could make such an asinine statement. Sikhs are to fight against tyranny and injustice whether committed by Afghan invaders, a chauvinistic Indian state, or even themselves.
Rabbi's song is a powerful statement and clarion call. Rabbi is following in the footsteps of others of his generation, including Tigerstyle, that have pushed for Sikhs to remember their past and prepare for their future.  Other thoughts and comments?