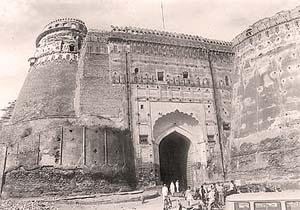 Good news! After years of coaxing and clamoring by Sikhs worldwide, the SGPC has recently committed to preserving Sikh buildings in their historic condition – instead of updating facades with rows of crisp white 4×4 tile, layers of white paint, and sheets of white marble, among other forms of traditional Sikh rehabilitation. The conduits for the SGPC's work of keeping up historic and new buildings are the groups of Kar Seva Wale Babe and this week the SGPC announced that:
'kar seva wale' saints will be requested to maintain the original structures without making additions or alternations.
This is amazing news because in the past a lot of valuable Sikh history and art in the form of frescos and architectural detail has been lost due to the SGPC's building renovations and updates. Now there seems to be an affirmative acknowledgment that such things can't continue to happen – a step in what a lot (including I) feel is the right direction. However, the announcement comes at the heels of an interesting tid-bit regarding one historic Amritsar structure: In early January this year, renowned New York hotelier Sant Singh Chatwal announced that he had plans to turn Gobindgarh Fort into a hotel and museum. Hence, the question in the title of this post. As a historic building, Gobindgarh Fort is one of a the older forts in Amritsar, and was built around 1760 by the Bhangi Misl. It was later taken over and refortified by Maharaja Ranjit Singh and used to protect the city of Amritsar. It is, therefore, one of a number of historic buildings that would most likely be subject at some point to the SGPC's newfound preservationist attitude. In announcing his plans, the report noted that:
Chatwal said that the amount of non-resident Indians as well as foreigners visiting Amritsar is massive because of the Golden Temple but unfortunately the city still does not [have] a world class hotel.
Obviously, allowing such a joint venture would meet a number of different needs simultaniously – fulfilling the desire to keep intact the old fort, meeting the needs of NRI and foreign visitors, and providing a steady stream of return on investment for Mr. Chatwal – BUT the big question is – whether this is the type of preservation Sikhs want. Does turning a historic Sikh fort into a heritage hotel really count as preservation? Thoughts?