Yesterday, we received a special request for a blog topic. The urgency and pain expressed in the comment inspired me to write.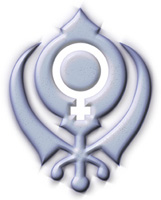 In 2006, the Jakara Movement sponsored an online survey that revealed a horrifying 1 in 4 women that took the survey revealed that they had been the victim of sexual abuse, while over half of the Sikh women responded that they know someone who had been abused. The results only confirm what many of us in the community already know.
The commenter specifically asked for us to look at how authority and hierarchies create an environment for such things to occur. Press reports of Gurdwara gianis that abuse their position are not hard to find, while those of Dera Babas, whether Dera Sacha Sauda, Nanaksar, Daljit Singh of Chicago, Mann Singh Pehowa or Sai Baba are even more common. (We will leave aside the problems of ALL Dera Babas for another post).
None should ever excuse such behavior nor try to hide it. If an allegation is made, a full inquiry should be made with the burden of proof on the accused. I do believe that this allegation is the one exception where the burden should be on the accused rather than the one making the allegations. (Unfortunately, many members of our community abuse the justice system by also alleging false cases due to personal dispute and rivalries.) Many with authority feel a sense of 'invincibility' that stems from their ego (haumai). The victims (both females and yes, even males) are silenced and their enforced silence deafens the entire community. We need to find a community solution to the problem.
Whether in the Gurdwara or in our homes, this problem is all too common. Revulsion is accentuated, as it should be, when we hear about granthis and gianis, because of their hypocrisy. In fact, our Guru Sahibs condemn hypocrites, especially religious, with the severest tone.
I wish I could say we could find these sick pieces of shit and give them what they deserve. I wish we could be more preventative. Maybe some of the other bloggers and commenters can start a dialogue where we not only come up but actually enact some ideas. On the other side, it is actually being sensitive and believing those that are brave enough to come forth and providing them with comfort and support for their bravery. In a Canadian judge's ruling a niece, who had been sexually abused by her uncle (a local Giani), said words that would resonate with a number of women that had been victimized by sexual abuse:
To have the judge believe me, to have someone say he was wrong to do what he did is worth a trillion dollars.
On Sepiamutiny, a tremendous and brave blogger shared her experience of a date rape. Her words echo: You're Not Alone. It is for our whole community to make sure we stand with them. It is for our whole community to make sure that they are no longer alone.