I just came across a great article on the work of Baba Sewa Singh of Khadoor Sahib, Amritsar District, and his remarkable campaign to plant trees across rural Punjab. Well worth a read.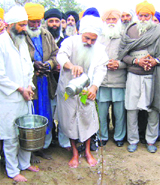 According to [Baba Sewa Singh], they will adopt another 100 villages this year in Bathinda, Jalandhar, Patiala, Amritsar, Gurdaspur and Tarn Taran districts. "We are targeting plantation of at least 500 trees in each village, which would make a total of 50,000 trees in 100 villages every year," he added.
Forests are vital to maintaining ecological balance in air, water and soils across Punjab. At present, only 6.5 percent of Punjab is under forests, which is even lower than the desert state of Rajasthan at 9.5 percent. Though the Punjab government plans to increase forest cover to 15 percent by 2017, ensuring that forests benefit the average person in Punjab will an important indicator of success in any afforestation effort financed by the state. Planting indigenous and native species like kikar, tahli, jamun, and neem trees, along with fruit trees in homes across villages will help ensure that the benefits derived from healthy, productive forests reach the many who still live in Punjab's rural areas.