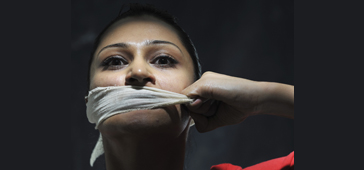 Many of you will recall the protests which emerged in 2004 when Gurpreet Kaur Bhatti went to stage her second play, Behzti.  The play, which covered issues such as rape and violence within the setting of a gurdwara, caused an uproar in the Sikh community in Birmingham and was later canceled.  Many community members welcomed the decision to cancel the play, while others argued that limiting the playwright's free speech was actually detrimental to the Sikh community.  It was nicely put in a Guardian article stating that, "The dispute became a classic conflict between the artist's right to freedom of expression and a community's wish to have their faith treated with dignity."
The Rep had taken the unusual step of inviting Sikh community leaders to a private preview to air their concerns, after which they agreed not to oppose the play if the setting was moved to a community centre. Bhatti refused. "I wanted to write a play about religious hypocrisy," she explains, "for which the setting in a gurdwara was non-negotiable. The attempt to establish a dialogue with the Sikh community was well intentioned, but ultimately misinterpreted as an invitation to rewrite my play." [link]
Gurpreet Kaur Bhatti later found a card among her Christmas mail that read: "Seasons Greetings. This will be your last Christmas. You are a disgrace to the race. Sending you lots of hate."  Bhatti was forced to go into hiding.  Behzti sparked protests and death threats, and now the playwright is attempting to address the controversy in her new play, Behud – which translates colloquially as "beyond belief".
In Behud, a writer struggles to come up with a suitable ending for her play, while trying to meet the demands of incensed community leaders, troubled councillors and an excitable director. The characters mutiny and inform the dramatist that her services are no longer required. Is this a metaphor for the way Behzti got out of hand? "I don't agree with everything my fictional playwright says," Bhatti replies. "But I think every dramatist would recognise the point when the director and cast all look at you as if they'd rather you left the room." [link]
The question now remains whether or not Behud will reignite the same sentiments which came to surface with Behzti.  When do we decide to encourage and support artistic expression or fight to protect our faith?  It is clear that Sikhi was not going to come to an end with the staging of Behzti so why did the confidence in our faith falter so easily over a fictional story?  An important element of our community's development is having these very difficult conversations about violence, rape, alcoholism etc.  We can hope that our gurdwaras are protected from scenes such as those depicted in Behzti, but avoiding the issue and responding with hatred and threatening another human's life – i just don't see the Sikhi in that.