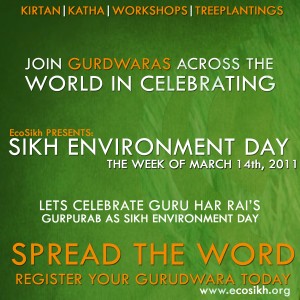 Since the Green Revolution was introduced in the mid-1960s, the Sikh spiritual homeland of Punjab has been faced with mounting soil erosion, water table decline, widespread chemical contamination, and continued loss of biodiversity in agriculture and forests. The Cold War era anti-revolutionary plan transformed Punjab into the breadbasket of the Indian nation state but left Punjab's ecology in a critical state and set the agricultural economy on a path of long-term decline. Without Sikh institutions on board with the ecological reality of Punjab, the serious degeneration of the environment will continue to accelerate, and the marginalized and the poor will burden the costs of shortsighted statist policies that have exploited the natural resources of Punjab.
The week of March 14, the Gurpurab of Guru Har Rai Ji, Gurudwaras across Punjab and the Diaspora will participate in the first ever global day of reflection on the environment to reach the masses in Punjab and the world. On 'Sikh Environment Day' Gurdwaras across the world will focus kirtan and katha on the environment, participate in tree plantings, install environmental notice boards, start pesticide-free vegetable gardens, and host Khalsa School lessons on the environment. The SGPC, DSGPC, AGPC, are all in support of this day and celebrations will be underway at Anandpur Sahib ('pani bachao, rukh lagao!'). We have prepared a Gurdwara Guide and shabad compilation for participating Gurudwaras and the Sikh Research Institute has also created Sikh environmental education lesson for Khalsa Schools across the diaspora.
Major outreach efforts are underway across the world, but WE NEED YOU to invite your Gurudwaras to join Sikhs across the world. Please take ten minutes of your day, 'like' EcoSikh on facebook, download an English or Punjabi versions of our invitations, pass them on to your Gurudwara heads, and encourage your Gurudwara to REGISTER today. We can make this happen for the future generations and create a shift in thinking on the serious degradation of Punjab's rural and urban ecology before the process becomes irreversible.
Please visit www.ecosikh.org to learn more about Sikhism's contribution to a sustainable future. May the Khalsa ever remain spiritually exalted, and always in service of humanity.