Some readers to this blog may be aware of the great work done by Ensaaf in advocating for human rights. Jaskaran Kaur, Sukhman Dhami, Jasmine Marwaha and the rest of their team deserve the community's praise for their tireless work advocating for justice in Punjab and beyond. They are among a number of fearless warriors in our community including HS Phulka, Jaspal Singh Dhillon, and the late great Jaswant Singh Khalra.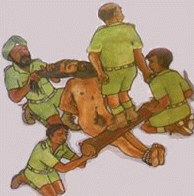 However, in addition to their tireless efforts, they should be praised for bringing greater awareness to the wider community about the injustices perpetrated upon the Sikhs by the Indian State. One such example is in the latest edition of the Journal of Abnormal Psychology.
A team of researchers, including Dr. Andrew Rasmussen of New York University School of Medicine and Bellevue Hospital, Dr. Barry Rosenfeld, Kim Reeves, and Allen S. Keller, secretly entered Punjab to conduct their research on Sikh torture victims. Evading the Indian Government's efforts at censorship, the research team, invited by Ensaaf, documented the trauma suffered by these victims of state violence.
The article titled "The Effects of Torture-Related Injuries on Long-Term Psychological Distress in a Punjabi Sikh Sample" sheds light on the psychological ramifications of torture. The findings of the study are those typical of a scientific journal.
The article sets out to study the association between chronic pain and major depression in the context of trauma. The article records:
From 1984 to 1995, widespread civil unrest and bloodshed occurred in the north Indian state of Punjab (Amnesty International, 2003; Crosette, 2004; Gossman, 1991; Gossman & Iacopino, 1994; Kaur, 2002; Kumar, Singh, Agrwaal, & Kaur, 2003). According to human rights organizations, Indian security forces and Punjabi police tortured, "disappeared," executed, and illegally cremated more than 10,000 Punjabi Sikhs. The present study used this population of survivors, a group that was not subject to the confounding effects of migration and resulting acculturation stress that are characteristic of much of the torture literature, to identify the contribution of chronic injuries sustained during torture to subsequent psychopathology.
The methodology and sample details are as follows:
Procedures and sampling method were designed to obtain a representative sample of plaintiffs involved in a class-action lawsuit against the Indian Government for illegally cremating Sikhs (or, in some cases, those mistaken for Sikhs) in Punjab in the 1980s and 1990s. Cremation records were kept by police and made public under a Federal investigation, and it was on these records that we based our sample. Of more than 2,000 illegal cremations registered by India's Central Bureau of Investigation in two police districts in the city of Amritsar in the late 1980s and early 1990s, family members of 756 decedents were able to be identified by government investigators (based on available cremation records and physical descriptions of decedents, when available). Of the individuals identified, every fourth decedent (189 of 756) was selected from case records, and immediate family members for 160 decedents were contacted (84.7%); accurate contact information was unavailable for 29 families. Of these 160 individuals approached, none refused to participate, although only 130 attended their scheduled appointment at the central interviewing location in Amritsar (81.9%; 1 individual was interviewed about two separate family members who had been selected). Of the 29 who did not keep their appointment, most cited transportation difficulties or other scheduling conflicts as the reason…This study was approved by the Institutional Review Board of New York University School of Medicine. Precautions were taken to identify and exclude data from any participants suspected of exaggerating symptoms, including a culture-neutral test of malingering (the Dot Counting Test; Binks, Gouvier, & Waters, 1997; see the Measures section below) and physical examinations of those individuals reporting long-term injuries or scars.
Findings revealed:
Although all had experienced the sudden death of at least one family member at the hands of authorities, three-fourths (n _ 91, 78.4%) reported some form of abusive contact with authorities themselves (described in the Method section). These direct experiences of abuse had taken place an average of 11.6 years before the interviews (SD _ 4.2).
The most frequent types of torture were slapping, hitting, or kicking (n _ 43, 37.1%); assault with an object (n _36, 31.0%), suspension from ceiling from hands tied behind the back (n _ 29, 25.0%), stretching legs laterally to a 180°angle(n _ 28, 24.1%), and rolling large iron or concrete bars over limbs (n _ 20, 17.2%). A smaller proportion of women (n _ 17 of 44, or 38.6%) had been tortured than men (n_ 44 of 72, or 61.1%), _2(1, N _ 116) _ 5.23, p _ .05, odds ratio (OR) _ .41, 95% confidence interval (CI): .19, .89.
The finding that injury mediates the effect of torture on longterm PTSD provides some clues as to the mechanisms by which these variables interact. Injuries may be a proxy for the severity of the torture experience, as lasting injuries may be associated with harsher physical abuse. One theory presently gaining acceptance is that the intensity of fear and dissociation experienced at time of trauma is the single strongest predictor of the development of PTSD (Marmar et al., 2005; Morgan et al., 2001; Nixon, Resick, & Griffin, 2003). That reports of injuries that had healed did not mediate or moderate this relationship support this "severity hypothesis." We also considered that injuries might serve as traumatic cues from which torture survivors cannot escape—daily reminders that continually sensitize individuals to their traumatic experiences and thereby exacerbate or maintain PTSD symptoms, akin to recurring nightmares (Rothbaum & Mellman, 2001). However, given that injuries were not associated with posttraumatic intrusion symptoms, this hypothesis is unlikely.

The importance of documenting torture is extremely vital. Physicians for Human Rights is another organization that has been at the forefront for justice. Despite the enormous number of Sikh doctors in the diaspora I always find it somewhat troubling that I never see their names attached to such reports. I feel EVERY Sikh medical student should be a member of their school's chapter. Regardless, the work of Dr. Andrew and associates should be commended. Such documentation is vital for ongoing lawsuits against the Indian Government.




Take a stand and be informed.