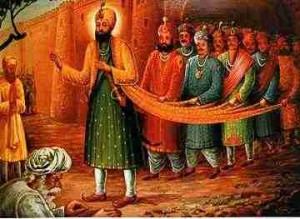 Many Sikhs participate in the celebrations of Diwali, the festival of light, without actually knowing what the significance of the date is in Sikh history.  I can admit that for a long time, Diwali didn't hold much importance for me because I didn't fully understand why we celebrated it.  In fact, today is not only Diwali but also marks Bandi Chor Diwas a day where Sikhs join together to celebrate the release of the sixth Nanak, Guru Hargobind Ji from imprisonment.  The historic event itself should be acknowledged with significance – particularly the fact that upon order of his release from Gwalior Fort, Guru Hargobind Ji refused to leave unless the 52 princes who had also been imprisoned would also be allowed to leave.  Thinking of others' rights were more important than simply thinking of his own.         
To me, the day is a reminder of the concept of Sarbat da Balla, or the welfare of all.  Sarbat da Balla is a guiding principle that hopefully makes our words and actions bring about positive change to the greater good.  As we approach the upcoming election (7 days to go!), it is these principles that should help advise us on those issues that affect not just ourselves but the collective good.  While the economy is the principal concern on the minds of most voters, healthcare is an important issue that will also sway votes in a meaningful way.  
A recent Kaiser Family Foundation poll shows that voters agree that in the face of a struggling economy "it is more important than ever to take on health care reform."
Among Democrats, expanding coverage for the uninsured ranks second, named by 35 percent of those voters. Coverage also ranks second for political independents, named by a somewhat smaller proportion (23 percent). Relatively few Republicans (9 percent) name coverage as a health care priority.  Most Democrats (69 percent) and half of independents (51 percent) think that universal coverage would help the overall economic situation in the United States, while only 34 percent of Republicans agree. [link]
The two candidates clearly differ on their view of health care – one supports universal healthcare and the other prefers to rely on a free market.  Obama's plan focuses on coverage, while McCain aims at cost.  
McCain would change the tax code to encourage people to buy coverage through the individual insurance market and effectively loosen state rules governing the sale of insurance by allowing people to buy policies across state lines. Obama would encourage the continuing participation of employers in the health insurance system, expand eligibility for Medicaid and the State Children's Health Insurance Program (SCHIP), and create a new insurance market "exchange"-with consumer protections, choice of public and private health plans, and income-based premium subsidies-that would largely replace the individual market. According to one estimate, discussed below, in 10 years McCain's proposal would reduce the number of people who are uninsured by 2 million out of a projected 67 million. Obama's plan would reduce the number of uninsured people by 34 million in 10 years. [link]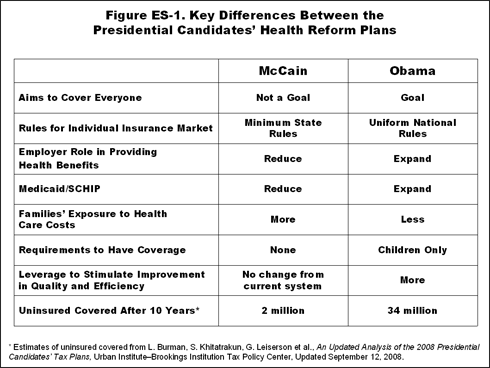 For me, providing health care to everyone and agreeing that health care is a right (and not simply a responsibility) embodies the concept of Sarbat da Balla.  Many societies around the world actually regard health care as a human right that should be provided – and regulated – in the public sector, rather than managed by private corporations.  While America offers some of the best health care, it is also the most unreliable, costliest and least equitable health care in the world.  There are currently 46 million Americans who are uninsured, including 9 million children.  Universal health care is simply a more humane system and aligns with the concept of Sarbat da Balla and while I can appreciate the freedom of political choice we are all entitled to make, it is the actions of a few than can bring about positive change for many.  Any thoughts on this or am I totally off the mark?
[To read about specific health care issues of the candidates, click here].