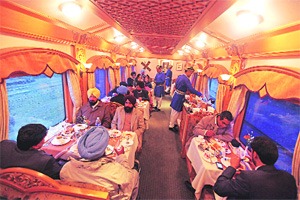 A luxury train, costing about $10,000 per passenger, and traveling to the five takhts throughout India has begun it's journey.  The nine-day trip will begin in New Delhi and will stop at Keshgarh Sahib, the Akal Takht, Damdama Sahib, Hazoor Sahib and Patna Sahib.
The 21-coach train includes two presidential suites, five-star rooms, a spa, a salon, gym, two restaurants, a conference hall and a business center! [link]  There are currently 88 passengers on board from both India and abroad including the US, Canada, the UK, Germany and France.  The trip is being managed by the Taj group of hotels.
It sounds like the trip is not necessarily directed towards Sikhs and is not simply a "pilgrimage" but apparently will include additional stops in Rajasthan for sightseeing.  One article notes that,
Different legs of the journey will have performances by traditional artists onboard. "Kirtans" (holy songs of Sikhs) by Sikh hymn singers called Raagis will also be an attraction.
The next trip is planned for March 2011 with an ultimate goal of doing four trips a year.  What are your thoughts – would you pay $10,000 for a trip like this?